How To Donate To That Amazing Costa Rican Shelter From Netflix's 'Dogs'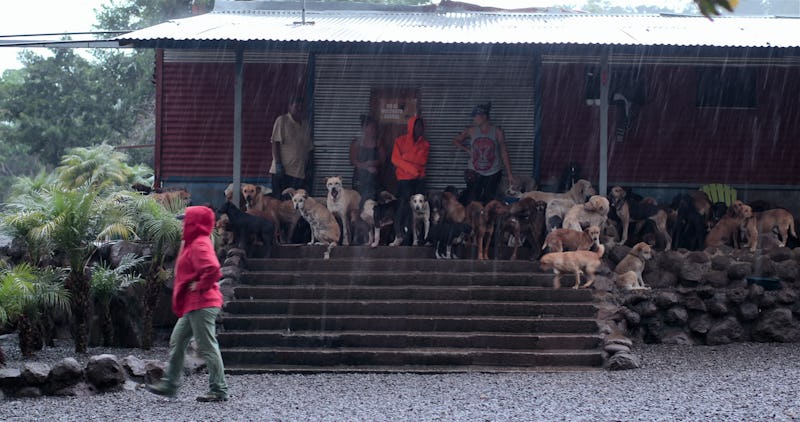 Netflix
Everyone knows that dogs are peoples' best friends and coming Nov. 16, there's a documentary that drives that point home. Netflix's Dogs docuseries highlights the journeys of several different furry friends and owners, and it's just the palate cleanser you need to escape the doom and gloom outside. There are plenty of organizations featured in the show that you should definitely look into supporting, but after you watch the fifth episode, you're definitely going to want to know how you can donate to Territorio de Zeauates — a Costa Rican non-profit shelter for the best pups.
If you're itching to help this particular cause, which according to its site is a permanent or temporary home for more than 800 dogs, you're in luck. Territorio de Zaguates has a super user-friendly donation page on its website. You can choose from several different amounts, and they also tell you what exactly your dollars are going toward. Looking to supply veterinary care for one dog? A $10 donation will take care of it. Food for one dog is $20, a full sponsorship of one dog is $36, and full sponsorship of two dogs is $72.
And if none of those options float your boat, you're also able to enter in a custom amount. All of your donations can be set to recur monthly, as an ongoing contribution, or you can choose to make it a one-time gift.
They also accommodate different forms of payment — in addition to their personal checkout platform, you can also use PayPal or wire straight from your bank account. The shelter's site also lists the medicines they're in need of, as well as the different shampoos, creams, and supplies like gauze and gloves that you can donate if you'd rather make that kind of contribution.
Territorio de Zaguates — which translates in English to "Territory Of Strays" — is located in the mountains of the Central American country, and its website boasts some pretty fabulous photos of dogs frolicking among the fields and trees. The site says that they've been in operation for more than 8 years, and they both seek to find outside permanent homes for dogs, as well as offer permanent shelter to those who might not find a family to take them in. As of Wednesday afternoon, they still need sponsorship for more than a thousand dogs, so they could definitely use all the donations they can get.
If you want to join those puppers as they bask in the glory of their current habitat, that's not unheard of, either. Territorio de Zaguates formerly allowed visitors, but unfortunately they've had to close to the public for the past year due to restrictions by the government, their site reads. But, they plan to open back to the public in early 2019, so if you ever find yourself in Costa Rica looking for snuggles, know you can look them up and see if there's been an update.
In addition to all the ways you can donate that you'll find on Territorio de Zaguates' website, you'll also come across heartwarming, true tales that'll make you feel even better about your donation. They have a section just for stories about their dogs, their struggles for survival, and the lives they touched. You'll be tearing up in no time.
So what are you waiting for? You have the opportunity to send even a few bucks to these adorable fellas. I mean, look at them! Are you kidding me? It's hard to find a cause that's as kind-hearted and simple as just supporting animals, and Territorio de Zaguates has made it easy for you to to just that.