How To Donate To The Women's March On Washington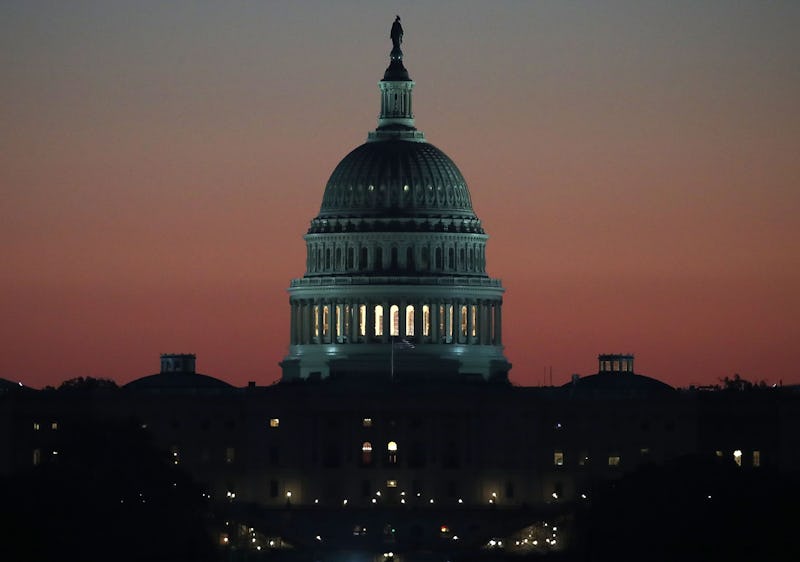 Mark Wilson/Getty Images News/Getty Images
Thousands are expected to converge on Washington D.C. the day after President-elect Donald Trump is sworn into office to greet his new administration with a bold message about women's rights. Organizers have estimated that some 200,000 people will attend the Women's March on Washington on Jan. 21. With less than a month to go before the march, donations are needed now more than ever. Donating to the Women's March on Washington, however, is quick and easy.
According to the official website for the Women's March on Washington, the national committee behind the march has raised just 13 percent of its $2 million goal. However, there's still time to help fund the Women's March on Washington and send a message to Trump's incoming adminstration about your determination to protect and fight for women's rights. Donating is easy and takes only a few minutes thanks to an incredible straighforward online form from the online fundraising platform CrowdRise.
Donations of $5 or more can be made here. They are tax deductible and all proceeds will go directly to covering costs associated with the logistics of organizing the event. Consider gifting yourself, a friend, or even Vice President-elect Mike Pence a last-minute holiday gift by making a donation to the Women's March on Washington. Donations can also be made in memory of a deceased loved one.
Women's March on Washington organizers were forced to adopt a new route after it became clear they would likely not receive permission to begin the march at the Lincoln Memorial (the march reportedly conflicted with other events planned around or as part of Trump's inauguration). District of Columbia Police confirmed Dec. 15 they had issued a permit for the march. which is scheduled to begin at 10 a.m. near the U.S. Capitol at Independence Avenue and Third Street SW.
Organizers have been careful to stress the march is not meant to serve as a protest to Trump's inauguration. "This effort is not anti-Trump," Tamika Mallory, a march co-founder, told NPR. "This is pro-women. This is a continuation of a struggle women have been dealing with for a very long time. In this moment, we are connecting and being as loud as possible."
Organizers say they are hoping to "send a bold message to our new government... and to the world that women's rights are human rights" with the march. "We stand together, recognizing that defending the most marginalized among us is defending all of us."