How To Dress Like Bella Hadid On A Budget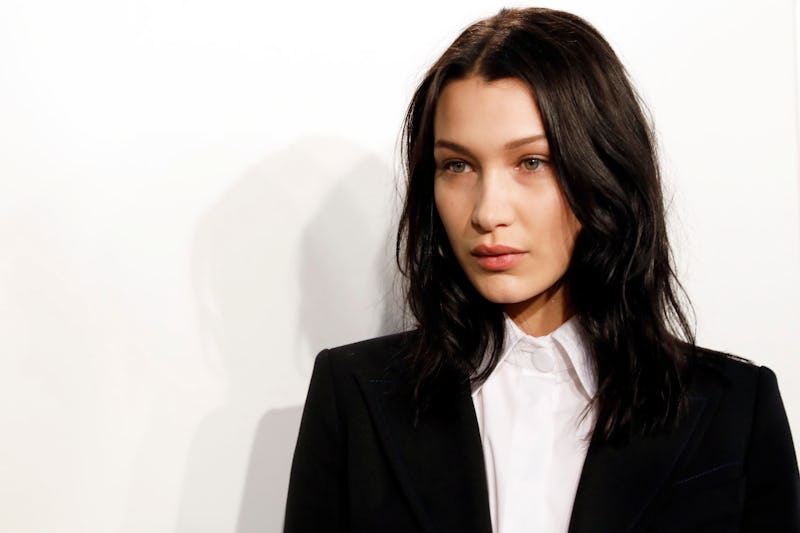 Tristan Fewings/Getty Images Entertainment/Getty Images
To say that Bella Hadid is a style icon would be the understatement of the century. Every time she steps out in public or posts a pic on Instagram, everyone can't help but ogle over her outfit. And you might be surprised to know that dressing like Bella Hadid on a budget is actually more doable than you might think.
While Hadid is frequently outfitted by the creme de la creme of high end designers, she often mixes in cool street style pieces for an effortlessly cool look, and you can often find those street style pieces (or similar styles) at fast fashion retailers like Missguided or Forever 21.
Hadid has even taken on the role of designer/creative director for her very own collection of pieces for Chrome Hearts, a line owned by the mother of Hadid's friend Jesse Jo Stark. Bella's Chrome Hearts collection was filled with leather skirts and crop tops that just scream "Bella Hadid." Many of which you can buy for yourself, if you really want to embody Hadid's signature style.
Bella Hadid's style is a little edgier than her sister Gigi's, and often is filled with nineties inspired pieces and lots of black, which is truly the way to my heart. Her red carpet style is always fire, but I really appreciate her street style, which is probably the truest expression of her personal style.
If you want to dress like Bella Hadid, but don't have millions of dollars to spend, look no further. After a careful analysis, I've scoured the internet to find lookalike pieces so you can recreate Hadid's signature style.
Her Real Love Sweatshirt
While in Paris, Bella wore this Real Love sweatshirt by Brooklyn-based brand Stickybaby. You can get the exact sweatshirt for yourself.
Real Love Sweatshirt, $109, Sticky Baby
Okay, $109 is still pretty pricey for a sweatshirt, but it's more affordable than her Givenchy shoes.
Red Broken Heart Patch, $3, Etsy
DIY your own broken heart jeans with a few of these $3 patches from Etsy.
Her Black One Piece Swimsuit
It's so simple, yet so perfect.
Aerie Super Scoop One Piece Swimsuit, $44.95, Aerie
This Aerie one piece is the perfect replica of Hadid's high cut swimsuit, plus it comes in several colors and lengths so you can steal her style, while also showing your individuality.
This One Shoulder Look
Hadid mastered the edgy/sexy/sporty thing right here. You can recreate her look with precision thanks to this top from Missguided.
Black One Shoulder Slash Crop Top, $26, Missguided
And you can pair this one shoulder top with these lace up jeans for a fun going out look à la Bella Hadid.
Lace Up Skinny Ankle Jeans, $35, Forever21
Nailed it.
Her Sassy "Yuck Fou" Tee
I need this tee in my life.
Yuck Fou, $14, Etsy
Luckily you can get this one for $10 on Etsy.
Her Glamorous Birthday Outfit
She can do no wrong.
Chainmail Halter Body Chain, $40, Forever21
Gotta stand out on your birthday, am I right?
This Lace Bodysuit
Pulling off lingerie in public looks easy when Bella does it.
At Midnight Black Mesh Bodysuit, $10, Tobi
Pair it with your favorite black skinny jeans for a sexy night out look.
Her Clear Glasses
I saw Bella wearing clear aviators, so I bought a pair of clear aviators.
Vintage Teacher Aviator Readers, $16, Urban Outfitters
This silver pair from Urban Outfitters is practically identical to the pair Bella wore in Dubai.
Her Smocked Tube Top
You'll need this for summer.
Silence + Noise Ruffle Smocked Strapless Top, $24, Urban Outfitters
The easiest top to throw on after a day at the beach.
Her Sporty Ensemble
How does she make sweatpants look so cool??
Snap-Button Pants, $25, Forever21
They're also super comfortable, so that's a win-win.
This Fitted Denim Dress
Her hair and choker make it so nineties. I die.
Plus Size Denim Overall Dress, $25, forever21.com
It makes a perfect layering piece, too.
Her Signature Page Boy Hat
Bella Hadid wouldn't be Bella Hadid without this hat. She's been seen rocking it on so many occasions.
ASOS Wool Mix Baker Boy Hat, $26, ASOS
Add this hat to any look for major Bella Hadid vibes.