Here's How States Can Expand Reproductive Rights In 2018 — And How You Can Help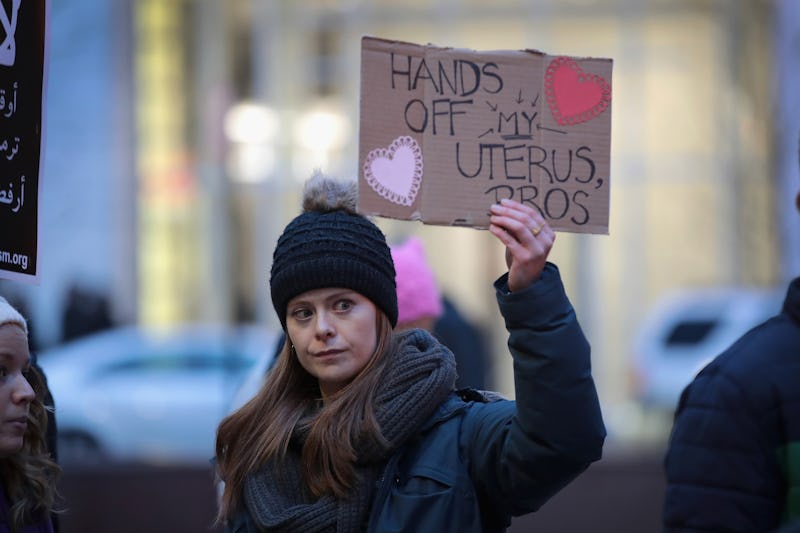 Scott Olson/Getty Images News/Getty Images
The state of reproductive health rights is often complicated, and the first year of Donald Trump's presidency was no exception. While the Trump administration has moved to chip away at women's access to abortion and contraception, there were several distractions that likely kept the White House and lawmakers in Washington from fully focusing on measures to restrict women's reproductive health options. Still, it may be only a matter of time before the Trump administration moves full steam ahead with its anti-abortion agenda. So in 2018, what can be done to expand reproductive rights?
"In this day and age, the work at the state and local level has never been more important," Andrea Miller, president of the National Institute for Reproductive Health, tells Bustle. "[States] can really be a tremendous counterweight to the extraordinary attacks on women and access to reproductive healthcare that have, sadly, been coming out of Washington D.C. over this past year and that we anticipate will, unfortunately, continue to come fast and furious in the new year."
In a new report, the NIRH zeroes in on how states can build on the groundswell of advocacy seen in 2017 to lead the fight against attacks on women's reproductive health at the federal level. Because according to Miller, state legislators may prove to be crucial counterweights to any rollback of reproductive rights the Trump administration or Republican-led Congress may attempt this year.
Reproductive Rights Made More Gains Than A Bodybuilder In 2017
As a national advocacy organization, the NIRH works to build power at state and local levels in order to advance policies that improve access to reproductive health care services. In its latest report, the organization found that while the past year brought significant challenges and an increase in "alarming and hateful rhetoric" to reproductive rights campaigns, there was also a groundswell of advocacy and several gains worth celebrating.
The NIRH found that every state, with the exception of West Virginia, introduced at least one piece of proactive legislation aimed at expanding reproductive health rights in 2017. By NIRH's count, lawmakers in 49 states and Washington, D.C. introduced 645 proactive bills aimed at protecting reproductive health rights. Of those bills, 86 were signed into law, another 45 passed at least one state legislative chamber, and an additional 76 passed at least one state legislative committee.
Elected Officials Need To Take Pro-Choice Public Stances, Too
The NIRH says there's more work to be done in 2018. As part of its end-of-year review, the organization outlined seven policy ideas to expand reproductive health rights in the forthcoming year. These include:
providing insurance coverage for the full range of reproductive health services;
repealing laws that restrict access to abortion, including bans on insurance coverage and mandatory waiting periods;
ensuring the safety of abortion patients and providers by working with law enforcement to provide training, resources, and accountability;
prohibiting insurance companies from restricting access to reproductive health care providers, thereby ensuring patients can choose their own doctor;
allowing access to a 12-month birth control supply and ensuring insurance plans cover all forms of contraception;
promoting the reproductive health of incarcerated women;
and protecting the rights of pregnant and parenting students.
Yet drafting and introducing legislation, while certainly an incredibly powerful tool, isn't the only thing elected officials at the state and local levels can do to help expand reproductive rights.
"One thing that elected officials can do is to make public stances, to take a public position, to be willing to state their values," Miller tells Bustle, adding that when elected officials take positive public stances on abortion and reproductive rights, that can make a big difference in the public conversation.
Miller notes there's often a lack of dialogue around reproductive health rights issues, which reinforces a climate of stigma and shame that ultimately hurts everyone's ability to access the reproductive health care they need and deserve.
[E]lected officials can do a lot simply by being willing to make public statements, to respond to things that are happening out there, and say "these are actually my beliefs and this is what I believe is best for my community and here's what I'm going to do about it."
Here's How You Can Help Expand Reproductive Rights
The NIRH says state legislators aren't the only ones who can help advance reproductive rights, however. "I think everyone has a role to play," Miller says. As a first step, she encourages everyone to get informed about their own state's laws. "One of the things we've found ... is that people actually don't know much about the laws that are in effect in their state and when they find out that information it's incredibly empowering," she tells Bustle.
Then, Miller recommends, take a look at the organizations active in your community who are working on reproductive health issues and ask them what they need. Identify where you can get involved, at whatever level of advocacy makes sense for you.
At the very most simple level, which I think anyone and everyone can and should do, start talking. Talk to your friends. Talk to your family. What you will find is that people are hungry to have these conversations, they just haven't been happening.
There's one other key action item Miller recommends for anyone seeking to expand reproductive rights: voting. "People need to vote and they need to vote at the state and local level," Miller says. But while voting at the federal level is undoubtedly critical, Miller says it's important to also vote in down-ballot races, as those elected at the state and local levels are the officials you'll have the greatest access to.
"At the very most simple level, which I think anyone and everyone can and should do, start talking."
While attacks on women's reproductive health rights are likely both at the federal level and in some states in 2018, Miller says that's no reason to get disheartened. She notes that patience is key when it comes to enacting policy, and that it's worth celebrating even the introduction of proactive legislation that doesn't ultimately pass — "not to say that the end isn't critical," Miller tells Bustle.
That's where we want to get to, but we can't ignore the fact that it takes effort and initiative, it takes a willingness of elected officials and advocates to be bolder ... and to use even those moments when there are such extraordinary attacks happening both at the federal level and in many states as opportunities to say not just what we're against but what we're for.