How to Fake Glossy Eyelids & Avoid Stickiness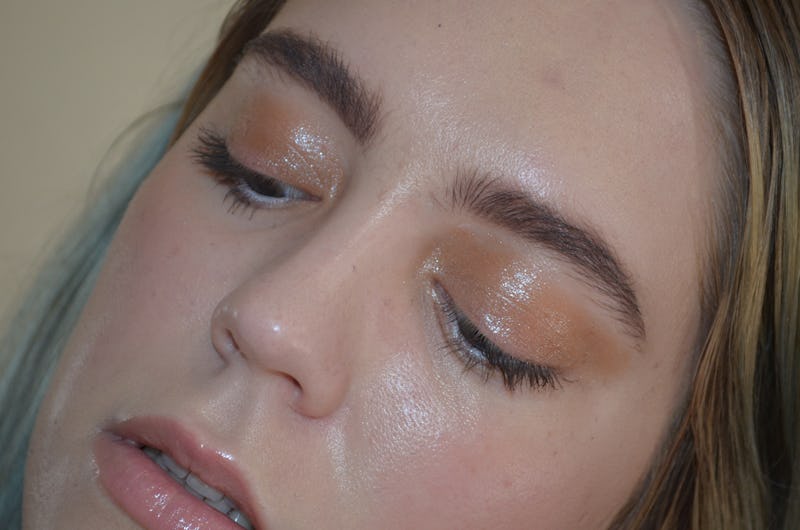 IMO, the best part about makeup is that it gives you the ability to transform yourself however you want to. Contour a "new" nose, brush glitter through your eyebrows, make your eyelids look wet and reflective — anything is possible, and encouraged. What a time to be alive.
Glossy eyelids, though, are a bit of a slippery customer. (No pun intended, but that was excellent). They look all cool and reflective, and do some sort of art theory thing of directing light towards your eyes, thus making them really pop. Unfortunately, actual gloss on the eyelids can be a real menace that can go one of two ways: Sticking your folded up bits of lid together and feeling like Elmer's glue, or slipping and sliding all around for a weepy, bleary-eyed look.
Either way, not cute — and more importantly, not comfortable.
However, I have discovered some makeup trickery that can give all the effect of a just-glossed lid, without any of the #stickyassdrama. They give super spangly, mirrored reflection, yet somehow still look fresh and low-maintenance. I'm talking non-glossy-glossy eyelids, and I'm talking about them now.
The easiest way to fake a wet-look-lid is a pale, sheer shadow with absolutely tons of tiny bits of glitter. I have a few options depending on preference.
From left to right, check out options from Urban Decay, Bourjois, Topshop, and ELF.
If you want something white and bright, the ELF Long-Lasting Eyeshadow in Confetti is perfect. It's a weird, mousse-y texture and needs a good primer underneath, but it's a stone cold bargain at $3. On pale girls, it gives a translucent, glossy look, while on deeper skins it looks icy and ethereal.
e.l.f. Long-Lasting Lustrous Eyeshadow, $3, e.l.f.
A slightly creamier, gold option is the Topshop Eyeshadow in Pageant. This is annoyingly hard to track down, but I think Topshop make an abundance of great eyeshadows for the glossy look — go for something somewhat translucent and with lots of multidimensional glitter. Pageant is great for pale to medium skin tones as a nude-ish wash, and would be a creamier, glowy eye look on deeper skins.
A good universal option is the Bourjois Little Round Pot Eyeshadow in 01. It looks peachy when swatched, but because of its baked texture a lot of the color pigment disappears into dust when used with a brush. What doesn't disappear,though, is the masses of pale, whiteish-silver glitter. It makes lids look reflectively wet — AKA, exactly what you're going for.
My ultimate recommendation in this category, though, is the Urban Decay Moondust Eyeshadow in Space Cowboy. Its "background color" is a pretty champagne that would look good on everyone, and the silvery glitter dispersed throughout is possibly the finest of them all – thus mimicking gloss all the more convincingly. Worn solo it looks like this.
Urban Decay Moondust Eyeshadow in Space Cowboy, $21, Sephora
But the reason I love Space Cowboy quite so much is that it works as a faux-gloss topcoat over colored, matte shadows, too. For anyone who has tried to gloss up a colorful eye using gloss knows it's a dangerous game. But applying a glossy looking powder gives all the effect without any of the creased, sticky mess. Here is Space Cowboy applied over the dark burgundy red from the Viseart Editorial Brights Palette.
Viseart Editorial Brights Palette, $80, Sephora
A different way to achieve a fake glossy lid is by using an iridescent pigment and diluting it to sheerness using a mixing medium. This gives shine and glow without too much noticeable color, with the added bonus of unbelievable lasting power.Seriously, mixing mediums mean business.
Two of my favorite options for this are the Jesse's Girl Pure Pigment Eye Dust in Starshine, which is a pearly white glitter, and the Sugarpill Loose Eyeshadow in Lumi, which is a reflective, glowy teal-ish reflect.
Jessie's Girl Pure Pigment Eye Dust, $5, Amazon
On the left is Jesse's Girl Starshine; on the right, Sugarpill Lumi.
I tap out about yay much onto the back of my hand, just so it looks really suspicious.
I then add two or three drops of a liquid mixing medium — this one is the Makeup Revolution Aqua Seal Liquid Eye Primer.
Makeup Revolution Aqual Sea Liquid Eye Primer, $6, Ulta
I mix up the glossy iquid with a finger, and dab it all over the lid, blending harsh edges with a fluffy brush. You need to work quickly, because it sets pretty fast, and once it does, you're done. Silver lining: This will last through tears, sweating, rain, drinking, Bikram yoga, face licking, etc.
Check it out:
It looks like one of those hot holographic eye glosses, minus the gooey feeling, plus it actually lasts for longer than a few minutes.
Now you can get that super cute, dewy, even-slight-greasy eyed look minus the grease. Skip the stickiness and try this instead — the effect is great, and your ability to deal will be even greater.