8 Ways To Feel Comfortable Being Naked Around Someone New, According To Experts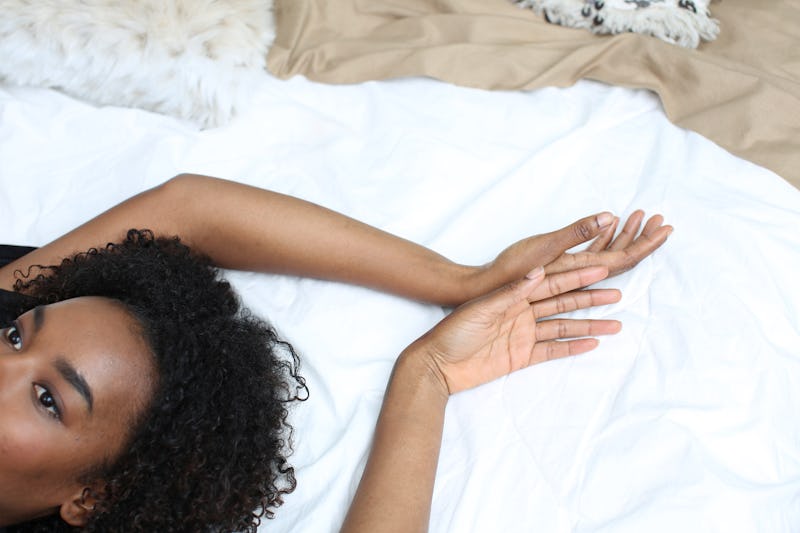 Ashley Batz/Bustle
Getting naked around someone new can be vulnerable, there's no two ways about it. Whether you feel emotionally exposed without clothes, have certain insecurities about your body, or simply get awkward, it's OK that being in the buff with a new person doesn't always feel fantastic. But know that there are definitely ways to feel more comfortable naked around a person for the first time that can help quell some of those nerves. And hey, you can even make the experience really freakin' enjoyable!
In part, getting comfortable being naked with another person when it has you feeling some feels is about doing things to prepare your body, mind, and surroundings to support you. And be gentle with yourself if you are having a hard time being ready or at ease.
"Setting the stage both mentally and physically helps you transition from being fully clothed and protected to undressing and being fully exposed and vulnerable," Dr. Jane Greer, New York-based marriage and sex therapist, tells Bustle. "[You can prepare] but still feel sexy and free to enjoy the experience."
The more you can think through what you might be feeling, the easier it will be to feel relaxed in your wondrous skin to have a great time. Here are eight tips to feel more comfortable being naked around someone new, according to experts.