How You Can Find A Health Care March Happening Near You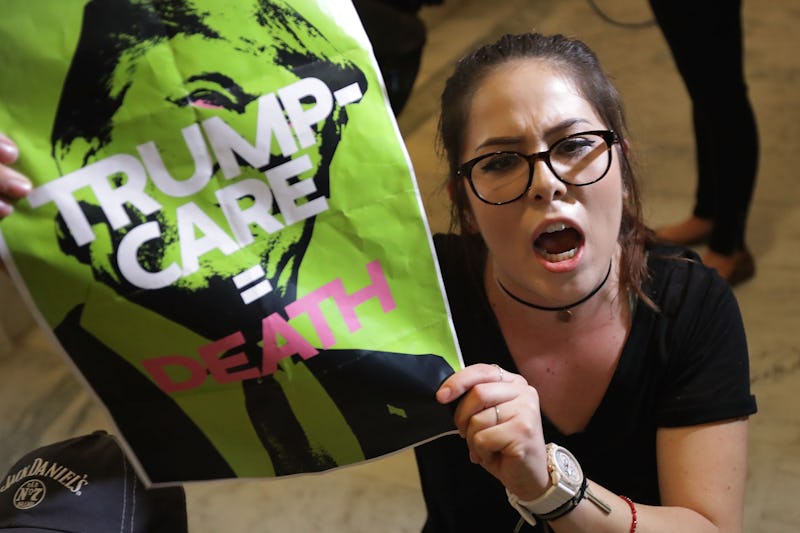 Chip Somodevilla/Getty Images News/Getty Images
This Saturday, July 29th, advocacy groups plan to hold nationwide protests dubbed Our Lives On The Line to demonstrate against the health care repeal effort and support the Affordable Care Act. Senate Republicans failed to pass the "skinny repeal" bill early Friday morning, but the protests are likely to take place anyway.
While they likely will take on a more celebratory atmosphere, activists shouldn't chuck their protest signs in the recycling bin just yet. The latest version of the bill may have just suffered another death, but it's unlikely that GOP lawmakers will put the issue to bed. "If my side is unable to agree on an adequate replacement, then some kind of action with regard to the private health insurance market must occur," said Senate Majority Leader Mitch McConnell earlier this month, as reported by CNN. "No action is not an alternative. We've got the insurance markets imploding all over the country, including in this state."
The Congressional Budget Office estimates 16 million more people would become uninsured if the trimmed-down repeal had passed. Major health care organizations denounced the attempted Obamacare repeal, including the American Medical Association, the AARP and the American Hospital Association.
There are health care rallies planned in 125 cities in nearly 40 states at the time of writing. In an interview with Public News Service, event spokesperson Emma Shaprio said, "We will be out across the country, and we will be loud. Our families will not give up our health care to give tax cuts to the wealthy."
If you're charged and feeling inspired from the recent voting result, the easiest way to find an event near you is on the Our Lives on the Line website, which lists all the gatherings by state. You can also share the the Facebook event for your local gathering to spread the word.
"Our families will not give up our health care to give tax cuts to the wealthy"
Saturday's event has attracted more than 60 partners, counting among them Planned Parenthood, Doctors for America, Americans for Tax Fairness, Human Rights Campaign and Women's March, which held the first nationwide protests against Donald Trump's presidency the day after his inauguration. Crowd scientists estimated at least 470,000 activists showed up in D.C. alone, which gives the Women's March a significantly higher attendance than Trump inauguration.
Prior to its rejection, the health care bill stalled on the Senate's desk after GOP senators postponed the vote earlier this summer. Then finally on Friday the Senate, including Sen. John McCain, voted no to repealing Obamacare. McCain and fellow Republican Sens. Susan Collins and Lisa Murkowski went against their party line to sink the bill 51-49. The survival of Affordable Care Act will be a blow to the Trump administration, which had promised to roll back Obama-era health care policies.