There's A Local "Hear Our Voice" Event For You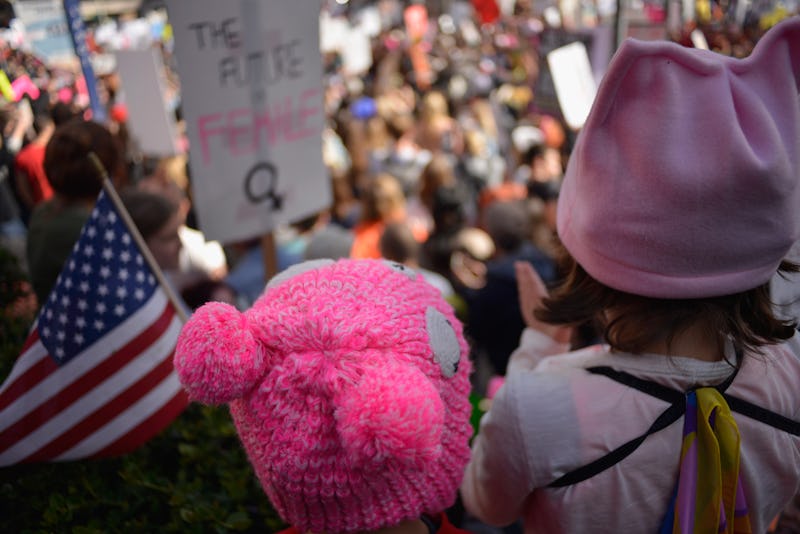 Chelsea Guglielmino/Getty Images Entertainment/Getty Images
The organizers of the Women's March on Washington made it clear that rather than a one-time event, the March was just the start of a movement. But what is the next step? Well, there's good news —you can find a "Hear Our Voice" event near you.
The "Hear Our Voice" events are the third segment of the Women's March's plan to take 10 actions during the first 100 days that President Donald Trump is in office. During President's Day Week, which is until Feb. 26, the March's organizers are "launching a wave of thousands of grassroots-led protests, actions, and meetings directly engaging Members of Congress," according to the Women's March website. You can find one near you by searching on this map.
The third action kicked off with "The Tele-Townhall" on Feb. 15, which featured Sen. Kristen Gillibrand, Cecile Richards of Planned Parenthood, Leah Greenberg of Indivisible, United State of Women leaders, and Women's March co-chairs Bob Bland and Carmen Perez. During the town hall, these leaders discussed "how you can take local action to stand up and fight for equality, justice and freedom," according to the Women's March website. If you missed the townhall, you can listen to a recording of it on YouTube.
If you aren't able to locate a "Hear Our Voice" event near you, consider hosting your own. The Women's March website features a variety of resources, including tools to help you contact your member of congress, tips for running a successful town hall, and more. And if your member of congress refuses to meet with you, you can still hold an "empty chair" town hall event without them. Just because they don't show up doesn't mean you can't.
The march's organizers have also announced the date of a general strike, "A Day Without A Woman": March 8, also known as International Women's Day. While more details about this event are still to come, there are plenty of actions you can take to contribute to the cause right now. For instance, the March's organizers have announced their support of Strike4Democracy's "National Day of Action to Push Back Against Assaults on Democratic Principles." On Friday, Feb. 17, participants will gather to "start brainstorming ideas for how you can enhance your community, stand up to this administration, integrate resistance and self-care into your daily routine, and how you will channel your efforts for good on March 8th," the organizers wrote in an Instagram post.
More information about ongoing events, including the "Day Without A Woman" and "Hear Our Voice" is still to come, so you might want to keep checking in on the Women's March website.