How To Find A Not My Presidents' Day Protest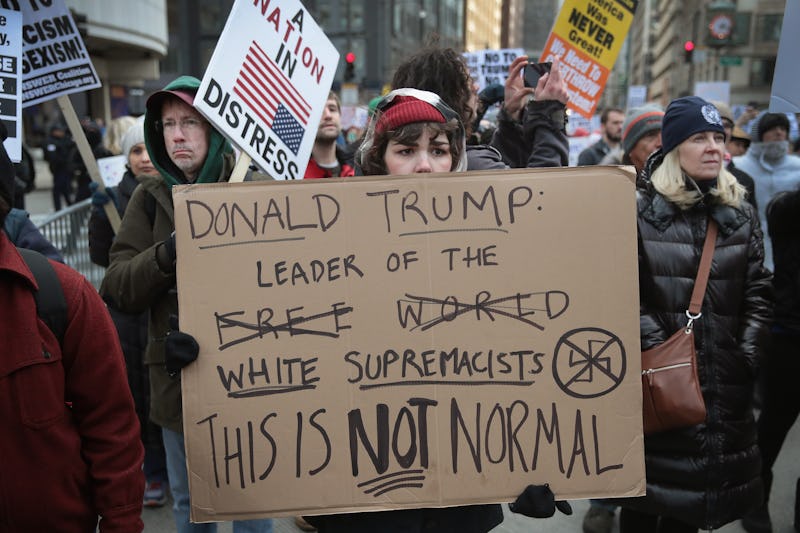 Scott Olson/Getty Images News/Getty Images
On Monday, thousands of anti-Trump activists are expected to attend — and in some cases, already have — "Not My President's Day" protests and marches in Los Angeles, Chicago, and New York. Dozens of other cities, from Salt Lake City to Philadelphia, have also launched affiliated or related actions for Presidents' Day. To find a Not My President's Day protest near you, consult this list posted by organizers on Facebook.
These protests, like last month's Women's March, will not just focus on one or two specific issues. Instead, they target Trump's policies as a whole. Business professor Laura Hartman, who helped organize Chicago's Not My President's Day rally, told USA Today that these events must strive for unity.
"We don't want to pick an issue," Hartman said. "By embracing a broad umbrella, we can show this administration that the numbers against it are broad."
In New York, television production manager Nova Calise — one of the organizers of a Not My President's Day protest near Central Park — explained to USA Today what it meant to say that Donald Trump is not her president.
"While we acknowledge that Donald Trump holds the current title, the policies he's trying to put in place are not the beliefs shared by the majority of the people," Calise said. "We do not accept Donald Trump as our president because he does not represent us."
For Calise, Trump's immigration and abortion policies are some of her primary concerns about the new administration.
The Facebook event pages for these protests illustrate what their aims are. On the event page for the Columbus Circle rally in New York, for example, organizers wrote, "Donald Trump is literally our President, but figuratively, he has attacked every value New Yorkers embody and does not represent our interests."
The organizers proceeded to cite that Trump's policies on immigration, climate change, Muslims, Native American and indigenous people, police brutality, and LGBTQ rights as reasons to resist his administration. Similar statements appear on the event pages for Los Angeles and other cities. In Chicago, organizers went one step further, reminding attendees that their city is a sanctuary city and letting the general public know that "we come together today in unity."
The Not My President's Day protests are not exclusively targeting Trump, however. They also have another practical aim, as organizers in Los Angeles made clear on their event page: "There is a congressional recess on February 20th that aligns with President's Day. Let's rally while our federal representatives are back in California and remind them who they represent." Organizers in other cities reiterated this call to action.
As these protests take place all over the country on Monday, they act as reminders that Trump is only one person. For Trump's critics, to truly resist his administration, it is necessary to tackle more than just the politician.