How To Find A "Stop Trumpcare" Sit-In Near You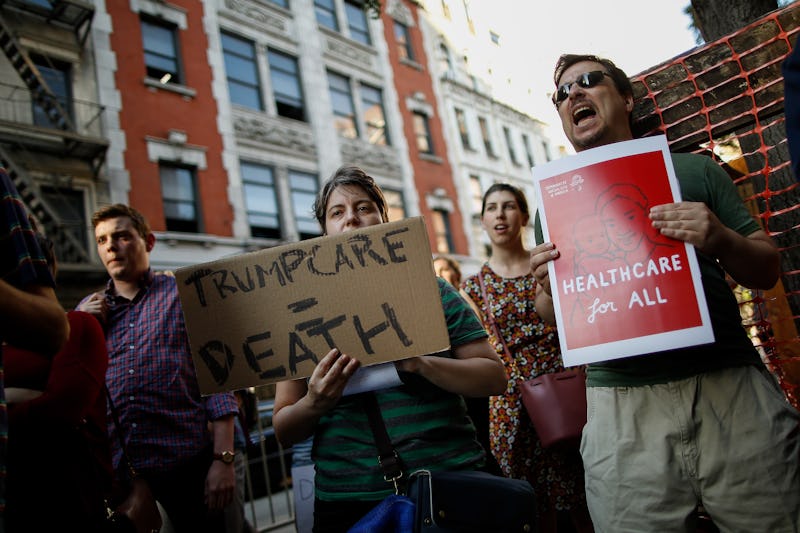 Drew Angerer/Getty Images News/Getty Images
The fight against Republicans' attempts to repeal Obamacare continued with several "Stop Trumpcare" sit-ins in states across the country on Thursday. The Senate health care bill was delayed from coming to a vote before the Fourth of July recess, and those who oppose the bill (including a majority of Americans, according to polls) took full advantage of the break to voice their opposition to their elected representatives.
Organized by a coalition of progressive groups — Democracy Spring, Our Revolution, Democratic Socialists of America, #AllOfUs, Progressive Democrats of America, Ultraviolet, the People's Consortium, the Working Families Party, and resisthere.org — the sit-ins are a form of "nonviolent direct action" at district offices of senators across the country in protest against the Republican health care bill.
You can look up the full list of sit-ins on the websites for Our Revolution, Bernie Sanders' grassroots political organizing group. If you want to get involved (anywhere from supporting a sit-in from afar to personally risking arrest by joining in), you can do so by signing up at Action Network.
Unlike last spring, when defenders of Obamacare hounded their members of Congress at Town Hall events where representatives met with their constituents, Republican senators are reportedly avoiding public events where they could be confronted about the health care bill. While some Trumpcare opponents were able to pressure their senators against the bill at July Fourth parades, for the most part, activists have had to find novel ways to get attention despite members of Congress who are trying to avoid scenes of public opposition, including Thursday's #StopTrumpcare sit-ins.
The most consistent action popping up is activists staging sit-ins around the country. Last week, a set of disability rights advocates refused to leave the office of Senator Cory Gardner (R-CO) for two days, leading to their arrests. On Wednesday, something similar happened in Arizona at Senator Jeff Flake's office. On Thursday, Democratic grassroots activists are getting involved, with at least 33 actions in at least 22 states.
Many of the senators being targeted for sit-ins, such as Dean Heller in Nevada, Rob Portman in Ohio, Susan Collins in Maine, and Lisa Murkowski in Alaska, have already expressed their own misgivings on the bill, and activists hope to turn that mild opposition into a staunch one.
With much of the negotiations over the Senate health care bill happening behind closed doors and the issue receding from headlines a bit as President Trump travels abroad, sit-ins like these are how people opposed to the Republican health care proposals hope to keep the fire of opposition burning, and keep the issue at the front of the national discourse.
Already, disability advocates who were arrested protesting the bill in Washington, D.C. focused the conversation on how the bill cuts Medicaid, likely contributing to its unpopularity. For the people organizing these sit-ins, the hope is clearly that more activism can remind senators how much opposition there really is.