How To Find National Voter Registration Day Events In Your Own Neighborhood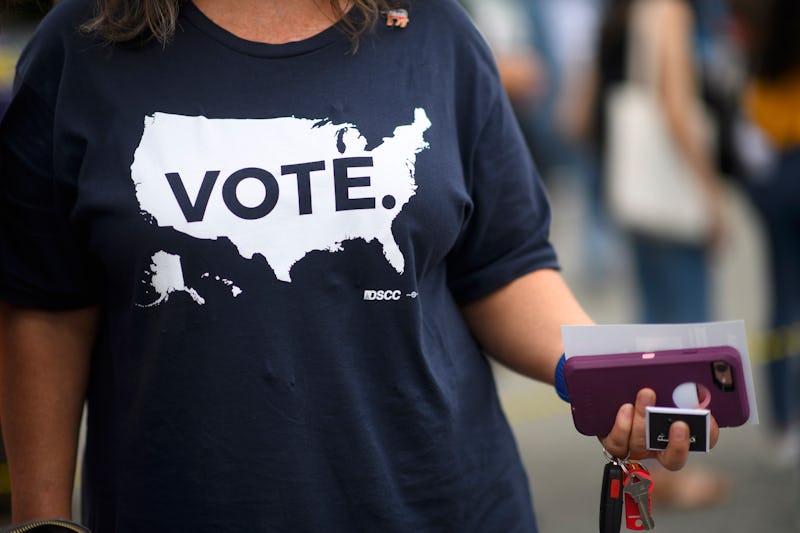 Mark Makela/Getty Images News/Getty Images
For those who still need to register to vote ahead of November's midterm elections, Tuesday is an opportune time, as it's National Voter Registration Day. If you're wondering how to find National Voter Registration Day events near you, you can rest assured it's quite easy to locate local registration drives and other events.
As the event's website describes, National Voter Registration Day, which was established in 2012, occurs on the fourth Thursday of every September. The website indicates that the goal of National Voter Registration Day is to "make sure everyone has the opportunity to vote." On this day, volunteers and organizations use "coordinated field, technology and media efforts" to register as many Americans to vote as possible, especially focusing on those who may not register otherwise.
If you want to attend a National Voter Registration Day event in your area, you can easily find a local initiative. National Voter Registration Day's website has a "Find Events" page where you can enter your zip code and find a registration or advocacy event near you. The website also has all registered events shown on a map of the United States, so you can easily see where events are located throughout your state and region.
In addition to using the website's tools, you should also reference your local news and local nonprofit organizations for a roundup of voter registration drives in your city/state. For example, the League of Women Voters compiled this very comprehensive list of National Voter Registration Day events in Connecticut. The Savannah Morning News offered a list of voter registration events in the city, including locations and opening times. Organizations and news outlets in many other states and cities will likely publish similar guides.
Furthermore, if you are hosting your own voter registration event, make sure to register it on the National Voter Registration Day website, in order to bring it to the attention of as many people as possible. You can register your event by simply filling out this online information form.
If you are unable to attend a voter registration drive today, but want to register to vote, the event's website offers a tool to assist you. Simply click the "Register to Vote" button and the tool will guide you through the process. Additionally, the website also provides a link to direct online voter registration options in many states. If you have questions about the registration process or are uncertain about voting procedures in your state, you can use the website's linked voter help page to address your questions and concerns.
Last year's National Voter Registration Day was quite the success. Over 2,851 partners participated in the day's events, registering or updating the registrations of 124,290 voters, as the 2017 National Voter Registration Day report revealed. Considering the number of events already scheduled to take place today, 2018's National Voter Registration Day could be stand to be equally or more impactful.
If you still need to register to vote, make sure to capitalize on Tuesday's opportunities and submit your registration. Midterm elections on Nov. 6 are rapidly approaching — and it is important to make sure your voice is heard.