NASA Just Landed A Spacecraft On Mars — Here's How You Can Follow Its Journey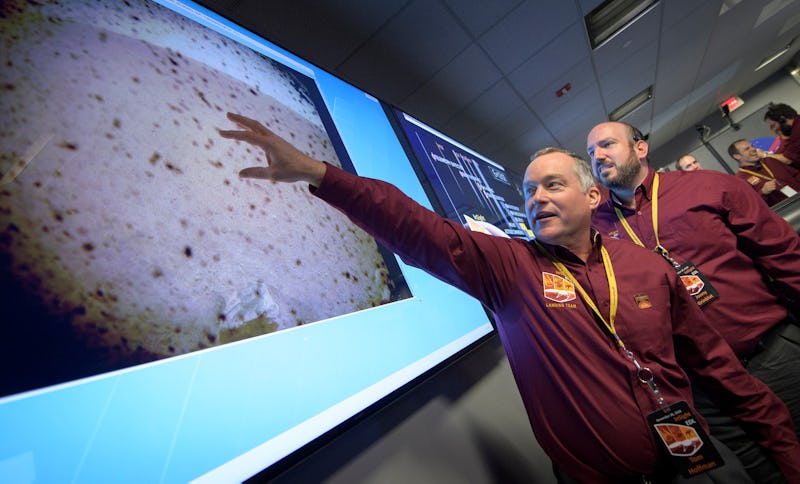 Bill Ingalls/NASA/Getty Images News/Getty Images
It's a stunning development bound to impress many viewers. After a seven-month-long journey in space, a NASA spacecraft landed on Mars on Monday. The red planet has been a frequent subject of intellectual interest and inquiry in the country. So, here's how you can follow NASA's Mars InSight mission.
The launch originally took place at the Vandenberg Air Force base in California. At the moment the InSight lander touched Mars, NASA sent its official "beep" to workers at the Mission Control at NASA's Jet Propulsion Laboratory. And naturally, the crowd erupted in applause and cheers after seeing the successful landing.
If you're a social media fiend, your best bet on learning more about the Mars mission is by checking the official Twitter account for NASA's InSight lander. As of Monday, the account had several updates. One of them included a tweet depicting the lander's first image of Mars, shared below, which may seem pretty grainy at first glimpse. But that's because, as the lander's Twitter account so personably put, "My lens cover isn't off yet, but I just had to show you a first look at my new home."
Another and perhaps more detailed way to keep up with NASA's InSight lander Mars mission is by heading over to the official website for the expedition. Check out details for its pre-launch, cruise, and fresh landing.
In an official statement, NASA Administrator Jim Bridenstine said, "Today, we successfully landed on Mars for the eighth time in human history. InSight will study the interior of Mars and will teach us valuable science as we prepare to send astronauts to the Moon and later to Mars."
Bridenstine added, "This accomplishment represents the ingenuity of America and our international partners, and it serves as a testament to the dedication and perseverance of our team. The best of NASA is yet to come, and it is coming soon."
So, what exactly is this NASA mission set to do? Look into Mars' interior core. Not much is known about this mysterious part of the planet. With the data obtained by NASA's InSight mission, the world will have a better opportunity to learn about the red planet's deeper center.
This much was explained by Lori Glaze, who is the acting director of NASA's Planetary Science Division, part of its Science Mission Directorate. "We've studied Mars from orbit and from the surface since 1965, learning about its weather, atmosphere, geology and surface chemistry," Glaze told CNN. "Now we finally will explore inside Mars and deepen our understanding of our terrestrial neighbor as NASA prepares to send human explorers deeper into the solar system."
All of this and more can be learned by checking out NASA's official InSight mission website and Twitter. What's more is that you can even look at the gifs of the moment the lander performed its final descent after several months of sojourning through outer-space. It's pretty neat. Or you can just watch NASA employees cheer their lander on the moment it touches Mars.