You Can Get $1 Margaritas At Applebees All Month Long — Here's How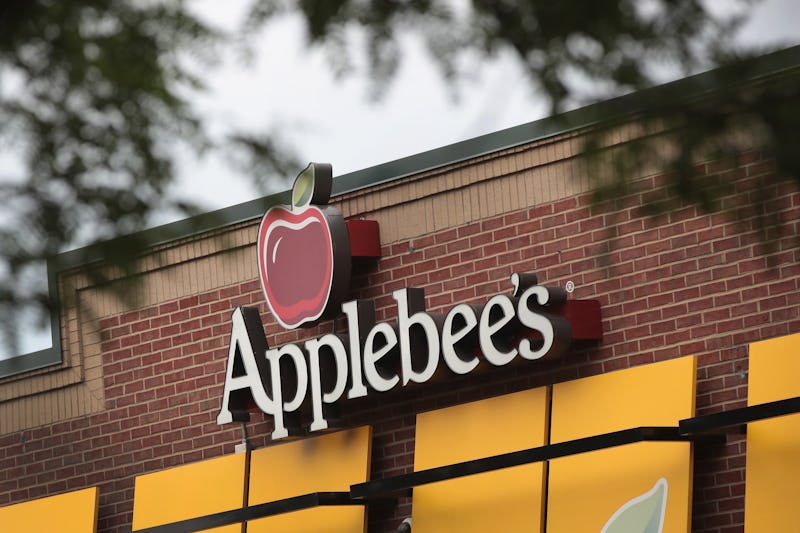 Scott Olson/Getty Images News/Getty Images
If you couldn't make it to Margaritaville for spring break, the next best thing is sipping on margaritas that are practically free. No April foolin' — here's how to get $1 margaritas at Applebee's this April. Known as Dollaritas (you might recognize it from October, the last time Applebee's ran this deal), this margarita special is perfect if you've spent way too much money on new spring sandals, but still want to get a head start on sipping sweet summer drinks. Made with tequila and margarita mix, the Dollarita comes in a 10-ounce frosty mug. Seriously, ordering a Dollarita is highly recommended if you're still stuck in a spring-forward slump.
"Since the Dollarita left us in October, it's been just about the only thing we can think about," Applebee's noted on its website. "We've been counting Dollarita instead of sheep before bed. Seeing Dollarita in the stars when we look at the sky. And adding the suffix-ita to just about every object-erita we can find. So we're bringing it back." Same? Check with your local Applebee's to make sure they're participating in Dollarita before you head over so your margarita madness doesn't turn into margarita sadness. If you're an avid avoider of chain restaurants, this is definitely the time to make an exception.
"Margaritas are extremely popular with our guests, and our Dollarita is the most refreshing drink money can buy," Patrick Kirk, vice president of beverage innovation at Applebee's, said in a news release. "We first introduced the Dollarita to America last October, and we're excited to bring it back in April as a reason to celebrate the return of spring." Seriously, even if you're broke AF, you can buy a Dollarita with the change from your couch cushions. Basically, Dollaritas provide the motivation you need to do a little spring cleaning to collect some pocket change so you can reward your efforts with a one-dollar margarita.
While it might seem like margaritas have been around forever, this popular drink isn't even 100 years old, according to the website National Today. Created in Mexico in 1938, the margarita has been synonymous with fun ever since, perhaps because they're a stimulant. As National Today noted, "In a recent National Today study, respondents reported that both male and female margarita drinkers seem more 'energetic and outgoing.'"
According to the survey, the margarita is the favorite happy hour drink of 30 percent of people in the U.S. with 24 percent saying that they can't drink just one. The survey also reported that 65 percent of margie drinkers prefer a salted rim, and 33 percent like their margaritas on the rocks versus frozen. While frozen margaritas are more popular, three percent of people judge those who order this tequila treat frozen. Of course, no one should judge anyone else's drink order ever, so we should all work on getting that percentage down to zero. Ideally, over margaritas.
Only one percent of people claimed to shun margaritas because they hate tequila, and four percent said they've never had a margarita in their lives. So, please take these people to Applebee's ASAP and buy them a Dollarita. Additionally, 15 percent of people said they only indulge in margaritas on vacation — and if you're one of them, think of April at Applebee's as one long spring break where you have permission to have a Dollarita! While having fun is fun, just be sure not to overdo it just because the Dollarita is dirt cheap. Consider spending the money you're saving on an Uber or Lyft. Because, the saying "one tequila, two tequila, three tequila, floor" is actually true. Trust me.