Sephora Just Announced A Surprise Sale That Could Get You 20% Off EVERYTHING — EXCLUSIVE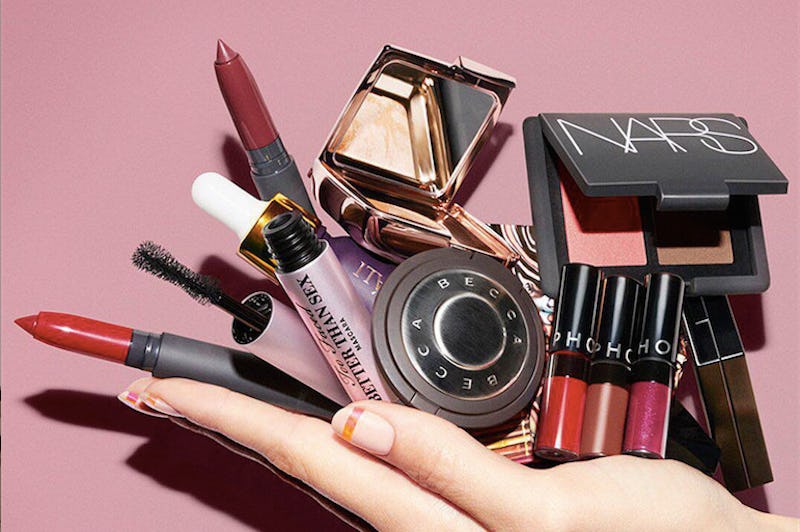 Sephora/Instagram
Makeup lovers, your favorite beauty retailer has got some huge news to share: Sephora's Beauty Insider Loyalty Program is getting a major upgrade and it involves loads more rewards for its most devoted customers. Beginning Aug. 14, Rouge, VIB, and Insider members will be receiving more points, more rewards, more options in gifts, and a more convenient way to track their Beauty Insider status.
But wait — there's more! To celebrate the big changes, Sephora is offering an extra promotion for its members. From Aug. 24 through Sept. 3, Rouge members will receive 20 percent off. Beginning Aug. 30 through Sept. 3, VIB members will receive 15 percent off and Insiders will receive 10 percent off. And if you're not a member yet, you can still sign up to become a Beauty Insider during that time period and receive 10 percent off. Looks like you're going to need to make some room on your vanity — with all these surprises, you're definitely going to need more space for all your new makeup and skin care goodies.
So, what changes can Beauty Insider members expect? Here's a quick breakdown:
You Will Receive More Points
The higher the tier you are in, the better the multiplier. Insiders will continue to receive 1 point per $1, but now VIB will receive 1.25 points per $1 and Rouge will receive 1.5 points per $1.
You Will Receive More Rewards
Each month in the Rewards Bazaar, Sephora will have five times more 750+ point rewards, including two to three full-size products for VIB and Rouge members to redeem. Rewards will also be expanded to include more options across color, skin care, hair care, fragrance, and wellness. Lastly, Rouge clients will now be able to redeem 2,500 points for a $100 Rouge Reward. Rouge Rewards will be released in the Rewards Bazaar every Tuesday and Thursday.
You Will Receive More Reward Options
If you're a Rouge or VIB member, you will now have the option of getting 250 bonus rewards or the birthday gift offering, as well as more birthday gift choices.
It'll Be Easier To Track Your Beauty Insider Status
Sephora has updated its member profiles to easily show the current Beauty Insider status and point totals, providing clear details on what rewards are available or redeemed.
In addition to the above updates, Rouge members will continue to receive free two-day shipping (in the United States), free custom makeovers, and access to Sephora's beauty experts through a Rouge private hotline. All members will be eligible for a variety of in-store services, like their Mini Makeovers or facials. There will also be free beauty classes and more events for the entire Beauty Insider community.
According to Sephora, the updates made were based on feedback they received from their members after asking them what enhancements and benefits they wanted to see in the program. Of course, this isn't the first time Sephora has updated Beauty Insider. Since it was founded in 2007, the company has strived to evolve the program so its customers can continually discover news ways to get the best values and engage with new and old brands.
"Beauty Insider was created to celebrate our clients through product, experiences and brand connection. Our goal has and will continue to be evolving our prestige loyalty program to meet our client's beauty needs. By fostering personal connections and generating brand love over the years, it was only natural that we leveraged their input to further strengthen the program and impart a renewed experience, beyond just perks and discounts," said Deborah Yeh, Senior Vice President for Marketing and Brand for Sephora, in a statement.
Yeh and team also hinted that there will be even more exciting changes in 2019. Until then, let the countdown to Aug. 14 begin.