CVS Is Giving Away $25 Worth Of Free Beauty Products & Here's How To Get Yours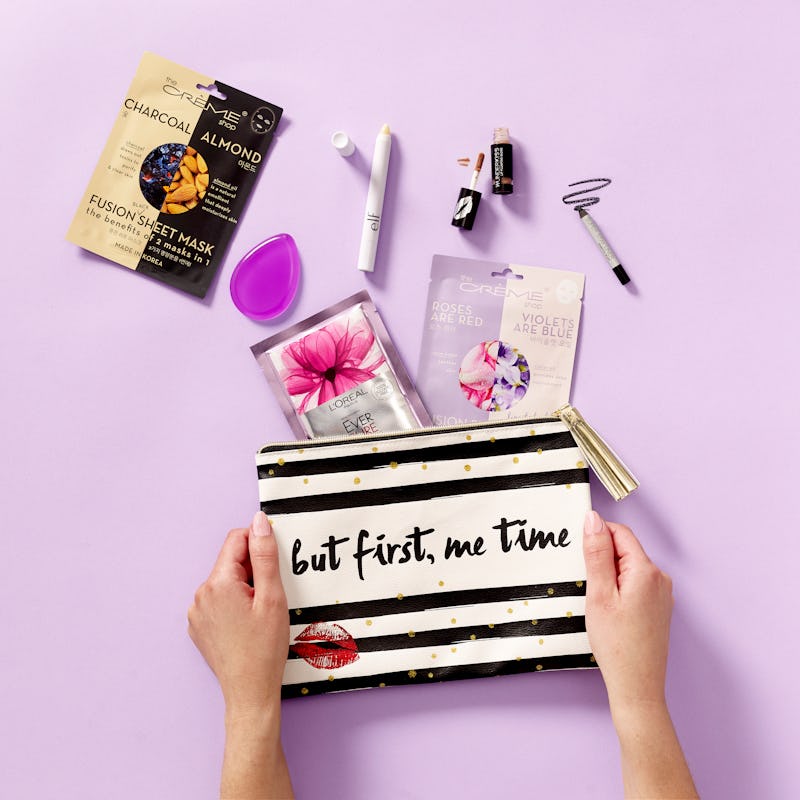 Courtesy of CVS
CVS isn't simply where you pick up prescriptions and tons of other stuff. The retailer and pharmacy has become a legit beauty hub for makeup lovers and skin care enthusiasts. CVS is giving away $25 worth of free beauty products for the next few days and you are soooo going to want to scoop up these freebies.
Here's the fine print. According to press materials received by Bustle, the promotion runs from now through Saturday, Sept. 22. Shoppers who buy $30 of qualifying beauty products at CVS locations or via the CVS site will receive the free Gift With Purchase Beauty Bag. The adorbs, top zip bag contains more than $25 of product from brands such as WUNDER2, e.l.f., Creme Shop, L'Oreal, and Beauty 360.
That means you will be able to sample wares from a high tech range, a beautyista-loved bargain brand, a Korean sheet mask and K-beauty fave, a drugstore staple, and the retailer's exclusive concept brand. The freebies include lip gloss, a brow pencil, eyeliner, a makeup blender, face masks, and hair masks.
The "But First, Me Time" bag is black and white striped and is cute AF. It's also versatile. It can serve as your go-to makeup bag or be used as a night out clutch.
Here's exactly how to claim your $25 gift bag of awesome stuff.
Cruise on over to your local CVS and stock up on all of your beauty essentials. You must nab $30 worth items found on the brand's shelves. Scan your ExtraCare card at the ExtraCare Coupon Center to receive coupon to use at checkout. You can also present the purchase verification found on your receipt after purchasing the $30 of stuff in order to get your well-manicured mitts on the Gift With Purchase Beauty Bag.
If you are shopping online, the same concept applies. Add $30 of eligible items to your cart. Enter the "FREEBAG" code at checkout and you're dunzo.
Isn't that bag the cutest, though? It sure is. This eight-piece freebie set will make your week. As the caption notes, the Gift With Purchase Beauty Bag is only available while supplies last. So if you were planning a CVS run any time this week, why wait? Head to your nearest CVS now instead of later. You won't regret it when you are stashing your essentials in that "But First, Me Time" bag or when you are trying out any of the products contained within.
ICYMI, CVS revamped its ExtraCare Beauty Club rewards program, which gives you even more reason to spend time in its well-stocked beauty aisles. It's awesome because you earn $3 in ExtraBucks Rewards whenever you spend $30 on Beauty. Therefore, you earn your rewards twice as fast.
The program also allows you to enjoy a free birthday gift, other surprises, samples, exclusive deals and events, early access to new launches, and a monthly trend report.
There is such a vast product assortment at your local CVS.
CVS is truly a beauty destination. It can be your one-stop shop. With brands like NYX, Rimmel, Burt's Bees, and Makeup Academy available at the retailer, along with all the usual suspects like Revlon and Wet n Wild, you can scoop everything you want and need in one fell swoop.