Here's How To Get A Free Baskin Robbins Milkshake This Month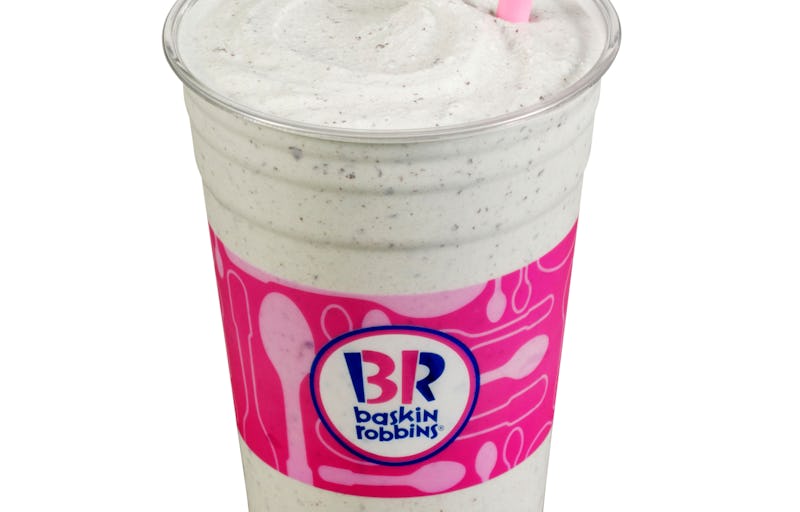 Baskin-Robbins
In honor of the upcoming holiday of St. Patrick's Day, Baskin-Robbins has an exciting treat. You could say that the ice cream store is spreading the luck — and love — by sharing their gold... aka, their ice cream. On Mar. 17, none other than St. Patrick's Day, customers will be able to score a free 3.5 oz size of the ice cream store's Mint Chip 'n Oreo Cookies Milkshake, which is tinged green to honor the holiday. Wondering how to get a free mini Baskin-Robbins Mint Chip 'n Oreo Cookies Milkshake when the holiday rolls around? Here are the deets:
No matter the temperature, ice cream is always a welcome dessert. Blizzard warnings could be blinking across the TV screen, and I would still be craving a double scoop of chocolate on a waffle cone. In the summer I of course naturally prefer ice cream to an ice pack to cool my body temperature down — but, a milkshake in March sounds reasonable to me. And it's the best way to kick off a spring and summer season stacked with scoops.
This St. Patrick's Day, we're all in luck. According to Baskin-Robbins, guests can follow the rainbow to participating stores nation wide on Mar. 17 between 3 p.m. to 7 p.m. to sample gold. I mean, a Baskin Robbins' Mint Chip 'n Oreo Cookies Milkshake.
It's no surprise to learn that two of Baskin-Robbins most popular milkshake flavors are Mint Chocolate Chip and OREO® Cookies 'n Cream. This March they'll be blended together into a uniform staple for lovers of the decadent minty and chocolate combination. When you go to your closest Baskin Robbins you'll be greeted by a gold in the form of a sample. Sample size milkshakes will measure out to be 3.5 ounces so it's not necessarily a milkshake that will fit two stars. But, bring a friend and you'll get the gist of that milkshake sharing moment.
And because we're all lucky this month, the flavor blending possibilities of Baskin-Robbins milkshakes don't end there. As Baskin-Robbins pointed out, "with the brand's wide variety of premium ice cream flavors, the milkshake possibilities are endless. Guests are encouraged to become 'milkshake mixologists' and create new milkshake flavors all their own by blending two of their favorite ice creams into one tasty shake. They can also share their milkshake flavor combinations with Baskin-Robbins on social using the hashtag #BRShakeItUp." Out of all of the ice cream flavors available to guests, you'll get to combine your two favorites into a harmonious marriage of dairy. What happens when Creole Cream Cheese Ice Cream meets Love Potion #31® Ice Cream? Don't leave these questions to wonder. Mix them together to start living your bliss!
But a milkshake sample isn't the only way to celebrate St. Patrick's Day this year with Baskin-Robbins. Customers can also purchase a St. Patrick's Day Cake, which is the company's signature ice cream cake decorated with green icing, a rainbow, and even a pot of gold. I don't know about you, but between this free milkshake sample and the idea of a St. Patrick's Day-themed ice cream cake, I'm already feeling sugar jitters. I will be thanking our lucky rainbows all month for these seasonal desserts being offered.
If you do happen to trek outside this St. Patrick's Day (if you live in a city, I understand that you may not want to go outside and deal with... well, everything happening outside), be sure to hit up Baskin-Robbins at some point for a frosty treat. After all, it's good month to get your ice cream and milkshake and cake — and eat it too! — at Baskin-Robbins.