How To Get A Free Slurpee At 7-Eleven This Week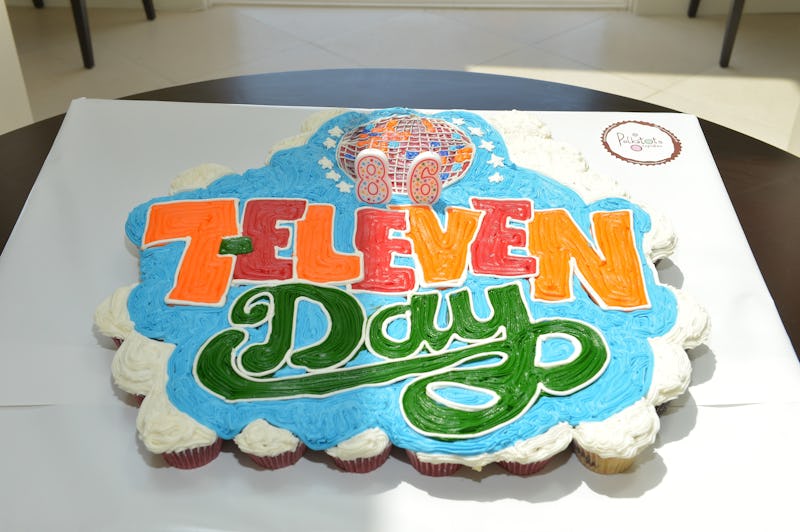 Charley Gallay/Getty Images Entertainment/Getty Images
If the summer heat has you craving something sweet and cold but you've overdosed on ice cream, you're in luck. 7-Eleven Day is coming up on Jul. 11 — see what they did there, 7/11? — and the convenience store chain is celebrating by giving out everyone's favorite childhood indulgence totally free of charge. So rejoice, '90s kids! I'm here to tell you exactly how to get a free Slurpee at 7-Eleven this month.
Each year, 7-Eleven throws itself a birthday party on Jul. 11, a date chosen for obvious reasons. This year, 7-Eleven Day marks 90 years since the chain's founding and 51 years since the invention of the Slurpee. To customers and store owners alike, the unofficial holiday is a big deal — to honor the Slurpee's 50th anniversary last year, 7-Eleven created a birthday cake flavor. Unlike most birthdays, however, the convenience stores give presents away rather than receiving them.
To get your hands on some free frozen goodness this year, all you have to do is head to a 7-Eleven on Tuesday, Jul. 11, between the hours of 11 a.m. and 7 p.m. Ask for a free small Slurpee, and ye shall receive. Provided you don't mind waiting in what will undoubtedly be a lengthy line, it's easy-peasy.
You can choose from any flavor, including their fancy new cotton candy Slurpee. Other flavors include watermelon lime, wild cherry, and lemonade. No coupons are required, and you don't even have to buy anything else from the store.
But wait! There's more. According to USA Today, 7-Eleven Day is followed by Slurpee Week from Jul. 12 to Jul. 18. If you use its mobile app to buy seven Slurpees in that time, you'll be gifted with 11 more frozen drinks in the future. It's a thrifty sugar lover's dream come true. To be eligible, download the app and register as a 7Rewards member. The coupon for your free Slurpees should appear within 24 hours of your seventh purchase. Just prepare yourself for a gnarly brain freeze.
Considering the Slurpee has been around since 1966, it's no wonder the drink holds nostalgic appeal for many Americans. Even if you normally hold off on its frozen, sugary deliciousness, 7-Eleven Day is the perfect opportunity to indulge a little. It doesn't count if it's free, right? Cheers!