Here's How To Get Free Cheesecake Factory Delivered Straight To Your Door This Week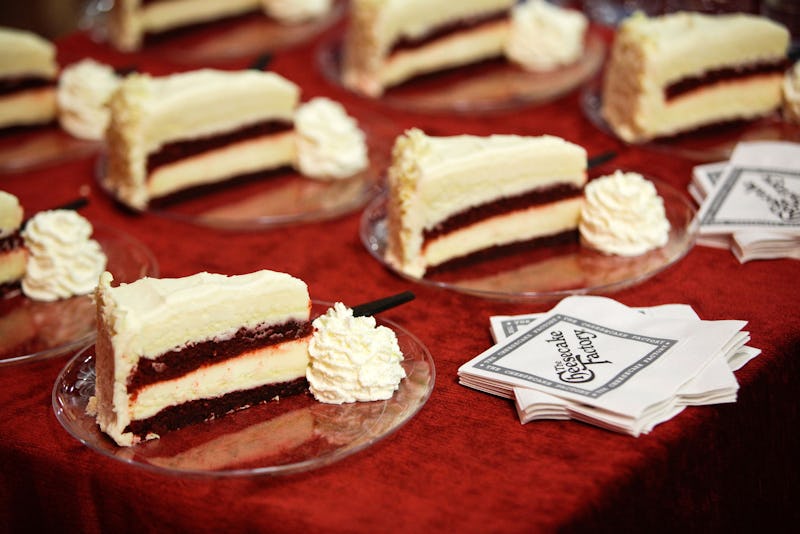 Paul Morigi/Getty Images Entertainment/Getty Images
Before you dive into this post, I feel the need to share with you all that after reading it, you'll never look at Wed., Dec. 6 the same way again. Sorry — the old Wed., Dec. 6 can't come to the phone right now. Why? Oh, because it's... well, it's not dead, but it is going to now forever be known as "the day of 10,000 slices." In what can only be considered an act of sheer marketing genius, The Cheesecake Factory will be delivering 10,000 free slices of cheesecake on Wed., Dec. 6 through their partnership with DoorDash, which means that finding out how to get free Cheesecake Factory cheesecake isn't going to be a difficult feat.
So, how can you take advantage of this deal? Read on, friends.
This deal is awesome on a variety of levels, the first of which is simple: come on who doesn't love free cheesecake? Especially Cheesecake Factory cheesecake? That said, it's also sheer brilliance on the massive cheesecake chain's part to introduce this deal now, because it simultaneously celebrates the upcoming holidays (which are all about giving, not paying), and helps them stay relevant by giving people free cheesecake. It's a win for everyone.
Now in case you need a refresher on exactly where and what is a Cheesecake Factory, you might remember them best as that oddly-designed restaurant with high ceilings and oversized windows you'd meet your high school boyfriend Kevin at for tater tots, unlimited strawberry lemonade, and a ginormous slice of strawberry cheesecake after school on Tuesdays and Thursdays. (No? Just me?)
According to a statement made by The Cheesecake Factory's founder and CEO David Overton, the deal is in part thanks to their partnership with DoorDash, the platform through which they handle all their deliveries through. "We are so pleased to partner with DoorDash to surprise and delight 10,000 of our loyal fans and guests by delivering a complimentary slice of cheesecake on Dec. 6. We hope they can enjoy a slice of their favorite cheesecake to celebrate the season of giving."
So how's this deal gonna work, exactly? According to a statement from the cheesecake chain, on Dec. 6,The Cheesecake Factory will be giving away 10,000 free slices all of their cheesecakes to customers in cities across the country. While there's no minimum order requirement — meaning you can order your slice of cheesecake without having to worry about also ordering a zillion dollars worth of other food and beverages — you do have to order your slice via the company's delivery service, DoorDash. Don't worry though, delivery is totally free too: all you have to do is enter the promo code "10000SLICES" at checkout and you'll receive a free cheesecake slice, up to $8.50 in value. (Of course, in an effort to keep things fair, it's strictly a one slice per account policy. Seems reasonable.)
The Cheesecake Factory offers delivery via DoorDash "in more than 70 cities," according to their website. To see if that includes your area, feel free to check out the company's website delivery engine here, or go directly to DoorDash, type Cheesecake Factory in the search bar, cross your fingers, and say a prayer to the cheesecake gods.
Anyway, you better believe I'm putting in my order for a slice of Reese's Peanut Butter Chocolate Cake Cheesecake first thing Wed. morning. Oh, and if you're reading this and you want to get the jump on your free slice, you can also sign up for a free reminder on Wednesday from the chain — the reminder will notify you once the slice deal is up and open for business.
May the cheesecake odds be ever in your favor.