You Can Get Free Chicken Tenders At Wendy's Today If You Know The ~Secret Password~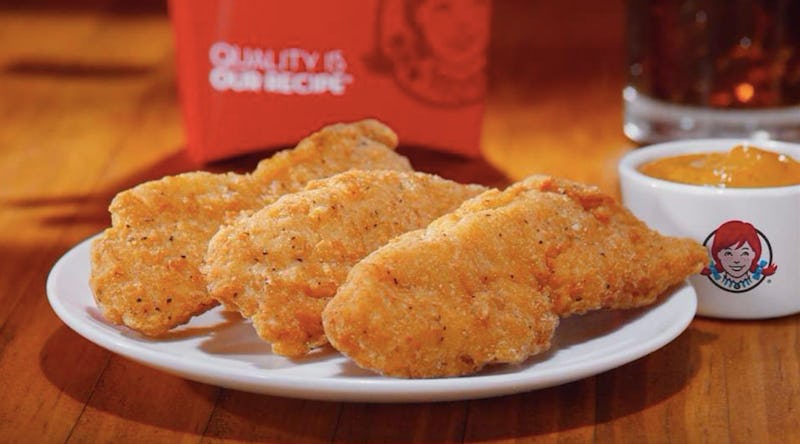 Wendy's
Getting your hands on free items or big discounts is like a game. There's nothing better than hunting online for a hidden savings code when you're online shopping or about to go grab some food — seeing that price go down when you check out is a beautiful thing. Today, Wendy's is getting in on the giveaway spirit in celebration of arguably the best holiday of the year: National Chicken Tender Day. That's right — every year on July 27, the beloved fried food is honored (I didn't know it existed two minutes ago but now I'm going to treat it like Christmas). If you go get your act together fast, you can score some deliciously crispy chicken tenders for free at Wendy's while supplies last — but only if you know the secret password.
On Thursday, Wendy's tweeted that locations around the country would be giving away free 2-piece chicken tinders to customers who are in-the-know about the password. Naturally, I tossed and turned last night dreaming of chicken tenders and wondering what the hush-hush code could possibly be, until Wendy's revealed it early this morning. Behold, the phrase you need to unlock your free food: "Winner, Winner Chicken Tender." Honestly, anyone who can say that to the cashier and maintain a straight face the entire time deserves 1,000 free chicken tenders. Every week. For life.
It's no secret that people love Wendy's chicken. Last April, Carter Wilkerson took to Twitter to kickstart a valiant mission: get free Wendy's chicken nuggets for an entire year. He casually tweeted Wendy's asking how many retweets he'd need to get 365 days of on-the-house nuggets, to which they replied: 18 million. Although he didn't quite reach that mark, he did break a Guinness World Record for the most retweeted tweet of all time (even beating out Ellen Degeneres' famous Oscars selfie shot). His plea for nuggets — "a man needs his nuggs" — received 3.6 million retweets. People don't play when it comes to Wendy's.
Last year, the company invested $30 million into changing and improving its chicken menu. According to Business Insider, they're working to make the meat as "tender and flavorful" as possible. To do so, Wendy's is partnering with suppliers to reduce the average chicken size — customers report that the meat from smaller chickens produces an all-around better taste. "We decided to raise the bar because customers deserve better-tasting and quality chicken," Kurt Kane, Wendy's Chief Concept and Marketing Officer, explained about the investment last year. "After two years of perfecting our new Chicken Tenders and Side of S'Awesome sauce, we knew we had a winner. The only thing left to do was provide these tenders at a price point that customers would love," he continued. Sounds good to me.
Although National Chicken Tender Day is one of those holidays you only hear about on the day-of, Wendy's has taken it upon itself to spice up the day's celebration in a way that we can all appreciate. Go, get your free chicken tenders (and try not to burst out laughing when you say the password). You deserve it.