How To Nab A Free Taco Bell Taco Thanks To The NBA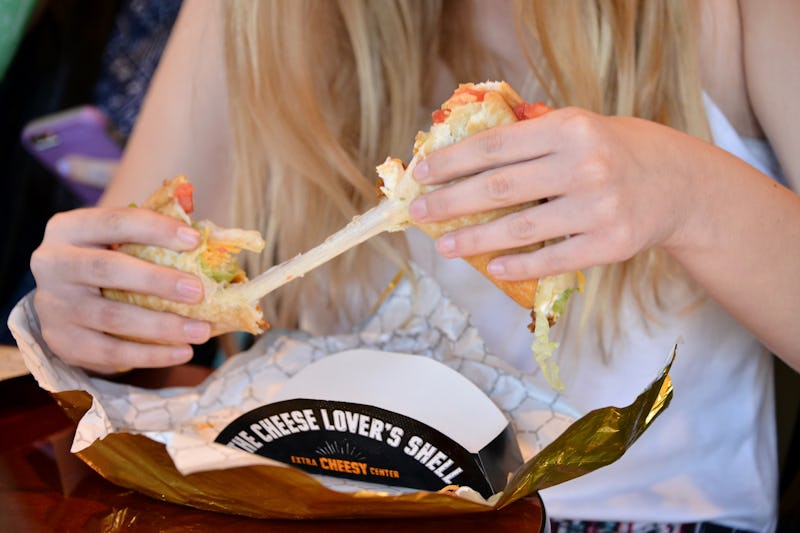 Araya Diaz/Getty Images Entertainment/Getty Images
If there was ever a reason to pay attention to basketball, it's free tacos from Taco Bell, thanks to an NBA Finals partnership. Despite the fact that tacos don't exactly break the bank, the concept of free tacos is exciting nonetheless. I mean, free anything is exciting, but free tacos is just like that extra nudge we sometimes need to choose tacos for our next meal, or fourth meal. Would you ever say no to a free taco? I didn't thinks so. And the best part is, the chosen taco for this promotion is the Doritos Locos Taco. If you've never had it before, you're seriously missing out, because it's like all of your after school snack dreams come true. It's got that epic, finger-staining Doritos dust, it's got some gooey cheese, seasoned beef, and shredded lettuce. Plus, you can add whatever you want to it from the additions menu, making it as packed as you want.
Even if you don't care about basketball (no one's judging you), know anything about the Finals (they start June 1) or even know what NBA stands for (National Basketball Association), you can get in on this promotion — because you know a good taco deal when you see one. The best kind of promo there is! For the second time, Taco Bell has teamed up with the NBA Finals for a "Steal a Game, Steal a Taco" promotion.
Basically, here's how the free taco situation works, according to Taco Bell:
"If the road team wins Game 1, Game 2, or Game 3, America will get a free Doritos Locos Taco on Tuesday, June 13, from 2 to 6 p.m. However, if the road time wins Game 4, Game 5, Game 6, or Game 7, fans (of tacos or basketball) will get a free taco on Tuesday, June 20, from 2 to 6 p.m."
If you read between the lines, you see that basically everyone wins. So all you have to pay attention to is which team wins which game, as that will affect with day the free tacos are available. Essentially, Taco Bell wants us all to be winners — they've just added some guidelines to inspire us to pay attention.
#LiveMas indeed!