This Is How You Can Get Free Taco Bell Today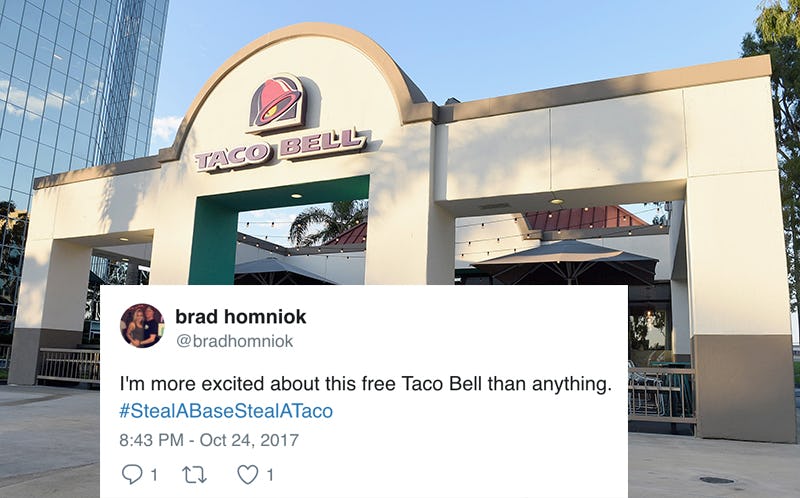 Joshua Blanchard/Getty Images Entertainment/Getty Images
There are free tacos up for grabs at your local Taco Bell branch right now, and I promise you, this is neither a test nor a super early April Fool's Joke. If you're wondering how to get free Taco Bell on Nov. 1 — and who isn't trying to figure that out? — I have all the details here for you. Seriously, don't be shy when approaching the Taco Bell counter if you head in to take advantage of this promotion, because this is not a scam. If you're also wondering why the taco empire is being so generous on a random day in November, you have a baseball game to thank.
You don't even have to be a baseball fan to also like tacos. The two things are not mutually exclusive, of course. But now, Taco Bell will have you glued to 2017's World Series between the Houston Astros and Los Angeles Dodgers, all for tacos. The taco empire is in the throws of their Steal A Base, Steal a Taco campaign which crowns a baseball player who steals a base during the World Series a taco hero. Because when someone successfully steals that base, taco fans get to steal a Doritos Locos Taco — legally, of course. For today, until any new taco heroes step (or steal) forward, all you have to do is run it in to your local Taco Bell.
Who exactly do we have to thank? The baseball player you have to thank is Cameron Maybin of the Houston Astros. In Game 2 of the World Series, he stole a base. Now you get to steal a taco. It's as simple as that and it is enough to turn any taco lover into a die-hard baseball fan, at least for the next baseball game in the series.
There are of course limitations on the offer, which runs today only from 2 to 6 p.m. while supplies last. "While supplies last" insinuates that everybody will be leaving their office chairs spinning in order to cash in on the offer as soon as it's made available, so you should definitely plan on changing into your sneakers soon.
I mean, people are basically already stretching to get to their local Doritos Locos Taco provider. Twitter is buzzing with gratitude and excitement towards Cameron Maybin. He may not be a name you've ever used in your household before but after today, he certainly will be. Even if you decide to stay content as a non-baseball viewer, he brought us all ~free~ tacos. And we can all get behind something that doesn't require us to pull out our wallet. This is a great day to have forgotten your lunch at home.
The offer is limited to one taco per person, so you'll have to go home hoping that someone else steals a base to get another ~free~ bite of heaven. The World Series between the Dodgers and Astros is currently tied at 3-3, meaning they'll be entering the 7th and final game tonight at 8:20pm. You'll have to tune in to see if you'll be getting another free taco in the near future.
Whether you're a baseball fan or not, the good news is that we all won. Whatever the outcome of this intense series may be, you will have the opportunity today to watch while blissfully indulging in your free Doritos Locos Taco. I may not be a sports reporter, but I think that's a first for World Series history? There are a lot of wins involved in this game. One of them being that this is the greatest Taco Tuesday ever and it's a Wednesday.