Here's How To Get Instagram Story Highlights So You Can Start Using It ASAP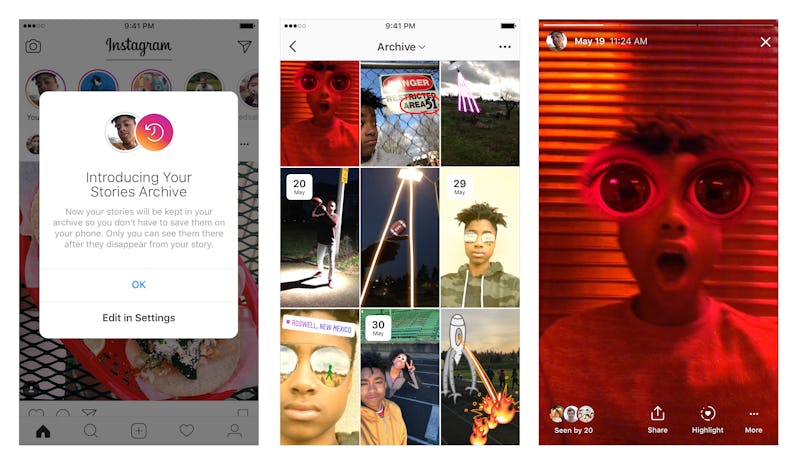 Instagram
There are a lot of ways to express your creativity and ~vibe~ on Instagram. The latest feature development on the app is just another way to make your whole brand ~crystal clear~. You'll want to know how to get Instagram Story Highlights so that you can start accentuating your greatest hits. As of Dec. 5, Instagram users will be able to curate their content so that the gems that were your past stories get their deserved time in the spotlight: From a slight 24 hours to ~forever~... or, as long as you want them to.
As a daily Instagram Story watcher, I've tuned in to some sequences that were more like short films. Some that were in depth virtual tours of historical landmarks I've never been but always wanted to nab a peek inside of. And then there were some ~elaborate~ stories that were reminiscent of educational lectures. The point being that I admittedly watch Instagram Stories more than network television. And I think that's because the daily happenings of my closest friends and the inside behind-the-scenes look at how my favorite bread stars shape their dough is more entertaining than any unscripted programing. Instagram Story Highlights can essentially create ~episodes~ of your greatest content. And it'll live in your profile, for longer than 24 hours — however long you want it to! You should totally get using it now. You know, for your followers' entertainment purposes!
So, how do you get the new update? It's totally simple:
1. Download The Latest Version of Instagram
Make sure you have the latest version of Instagram downloaded. It'll be Version 25.0 which makes me feel like we've all been through so much together since the first version rolled out. Careers have sprouted, artists have been discovered, new friends have been made — all through this app.
2. Go To Your Profile
Once your Instagram app has been updated to the latest version, go to your profile. Under the usual heading and your bio, you'll find a circle with a "+" sign, similar to the icon on the homepage when you want to create a Story. If you don't happen to see this after updating the app, you can troubleshoot, because it's obviously crucial to start archiving and organizing your stories into mini galleries.
To troubleshoot, an Instagram spokesperson advises, "Try uninstalling the Instagram app again. Then download the latest version of the Instagram app on the App Store or Play Store. Then force quit the app again." When you open the app, you should be able to get started. If you continue to have issues, let Instagram know!
3. Head To Your Archives
Your Stories were once disappearing art, with a short lifespan of 24 hours. That whole tutorial you gave on roasting beef was only for the lucky ones who happened to catch a glimpse of your Story on the homepage. But now Stories can live forever as immortal art. The Story Archives is where the stories will live in case they're actually golden content and deserve to be watched again and again without the threat of imminent deletion. This is the library you'll choose your Highlights from. To make an archived Story a Highlight on your profile follow these steps is a very simple process. Tap on a piece of media in your Stories Archives. Tap "Highlight" if you want to add it to an existing Highlight already in your profile or feature it as a totally new one.
When you have all your Stories selected for your Highlight, you can organize them into titled albums. Select a cover photo for the featured Story Highlights and go! Have a lot of pictures of pups? Your "Canine Crew" highlight can be a constant replay of Fido's most successful tricks or funniest fails.
Once you're equipped with this new feature, the possibilities of creativity are endless. And I, for one, can't wait to tune in!