How To Get Last Minute Tickets To Wimbledon 2018 Because Yes, It's Still Possible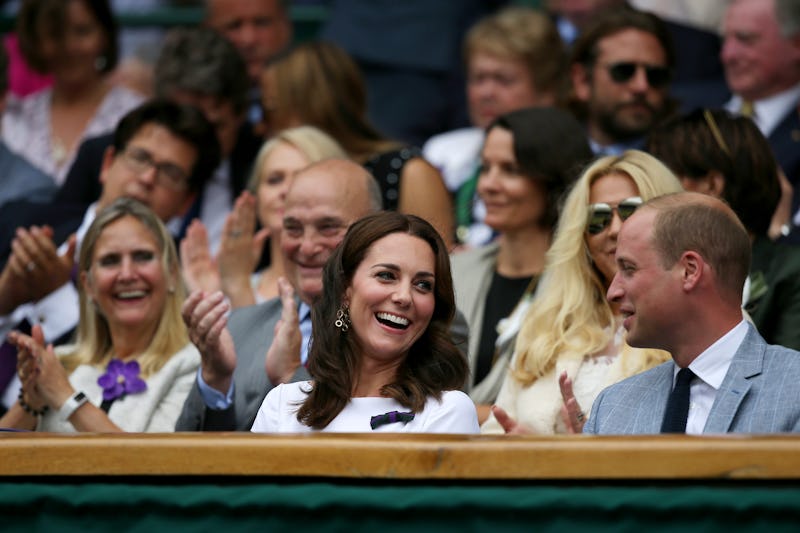 Pool/Getty Images Sport/Getty Images
Just in case you had forgotten about the unstoppable passage of time, Wimbledon 2018 is just three weeks away. THREE. It is one of the most exciting and highly anticipated sporting events of the year and it's right on our doorstep, so why wouldn't you want to be a part of it. One small problem, tickets are notoriously hard to come by and always in high demand. But fear not, with a skort on, and visor adjusted, you're practically ready to take to the court yourself. So here is how to get last minute tickets to Wimbledon 2018 so you don't miss all the action.
The ticketing system for Wimbledon isn't as simple as logging on to the website, picking a day and a court, and buying the ticket. Because where's the fun in that? Instead, tickets for the biggest tennis event of the sporting calendar are allocated through a combination of a public ballot and a queueing scheme. Though the demand is always consistently really high, it is in fact possible to snag a last minute ticket, and understanding which avenue to go down to secure your entry makes that all the more easier. So, here is exactly what you need to know to do that.
The public ballot was originally introduced in 1924, and every year of the tournament it has been massively oversubscribed. Getting your name on the public ballot does not guarantee you either automatic entry to Wimbledon, nor does it guarantee you a specific day and court. Instead, it adds everyone to a draw where courts and days are generated at random to a certain number of people. There are individual ballots for wheelchair users and people who are based outside the UK. So in essence, requesting tickets for the match you are dying to see isn't possible.
Names are selected from the public ballot up until just before the final, so people are still finding out they can attend the 2018 event during the month of June. The rules are many however, to clamp down on people sending loads of applications, like one entry per household, not per person in the household. Sheesh.
But there is still the queuing system, which sets Wimbledon apart from other premium sporting events in how it allows fans to get tickets on the day of highly anticipated matches. There are tickets available on the day for Centre Court, No.1 Court, and No.2 Court until the last four days of the tournament. According to the official Wimbledon website, queuing tickets are "sold strictly on the basis of one per person queuing." The website stresses that "your position in The Queue (and therefore what ticket you will receive) is dictated by what time you arrive in The Queue," and those dated and numbered crds are non-transferable. (Yes, that styling of "The Queue" is Wimbledon's own handiwork.)
To go down this route, you need to make sure you are at the grounds very early. Beware, some people camp overnight, with stewards sent round to wake them at 6 a.m. so the queue can get in order. Then, at 7:30 a.m., stewards will do the rounds and hand wristbands out to the first people in the queue who have court-side tickets.
Debenture tickets are issued by the owner of the Wimbledon grounds, sales of which help maintain upkeep, and they're the only tickets which guests are able to transfer ownership of. There are court-side tickets for both centre and number one court available this way. Rightly so, touting is hugely discouraged and a ticket obtained through a tout will not guarantee you entry.
Aside from court-side tickets, there are also tickets available on the day which grant you entry into the Wimbledon grounds. These start range from £8 to £25 and are a good option if you want to soak up the atmosphere, watch some of the lower seed games, and enjoy strawberries and cream. For these tickets, Wimbledon advises you "join The Queue a few hours before the Grounds open at 10.30am." Due to capacity issues, there's an element of one-in-one-out later in the day, with Wimbledon advising that "spectators may only be admitted as people leave."
And, though not as definite, a limited number of tickets are often available through Ticketmaster the day prior to each match, though the prices can fluctuate hugely with customers paying anywhere between £25 and £200, depending on how in demand the particular match is.
So, not all hope is lost, it is still possible to snag a 2018 Wimbledon ticket before the matches start, you just have to know how to go about it and where to look. Good luck.
Editor's note: After publication, we discovered this article did not meet our editorial standards. There were portions that did not correctly attribute another source. It has been updated to meet our standards.