Greatest Showman Hugh Jackman Is Touring The UK & Here's How To Get Tickets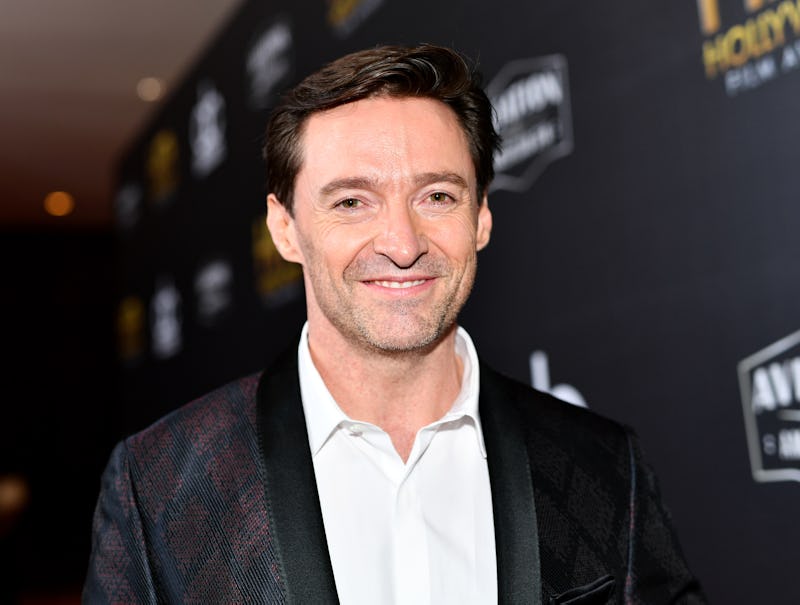 Emma McIntyre/Getty Images Entertainment/Getty Images
Let's hope you haven't finished your holiday shopping, because the ideal gift for your mum just materialised: Hugh Jackman, the greatest showman himself, has announced a 2019 world tour titled "The Man. The Music. The Show." He'll perform songs from musicals and films, and unsurprisingly, it's no small affair: Jackman's playing venues including London's O2, California's Hollywood Bowl and New York City's Madison Square Garden. Tickets are likely to be in high demand, given the staggering popularity of The Greatest Showman amongst Jackman's many other films. So here's how to get tickets to Hugh Jackman's UK tour — best set that alarm today.
The official tour website lists four UK dates: Jackman will play the Manchester Arena on Friday, May 24, Arena Birmingham on Monday, May 27, and two shows at London's O2 on Sunday, June 2, and Monday, June 3. (Basically, there's a good chance your mum will have to stay out late on a work night.) According to event website AXS, which appears to be the official merchant for the tour, tickets for all UK dates will go on sale on Friday, December 7 at 9 a.m.
Jackman's tour will take him across the globe, with multiple dates in Germany and stops in the Netherlands, Switzerland, and France before he lands in the UK. After that, he'll perform across the U.S. and Canada, stopping in cities including Houston, Chicago, Detroit, Toronto, Atlanta, Washington D.C., and New York City. Overall, he'll play a staggering 33 shows in the space of just over three months — so let's hope he's got those vocal exercises nailed down.
As the Guardian notes, Jackman's got a lengthy career in musical theatre (and musical cinema) behind him, alongside perhaps his most famous role as Wolverine in approximately 800 X-Men films. In 1998, he played Curly McClain in Oklahoma! at the National Theatre in London, for which he received an Olivier nomination. The musical was subsequently adapted into a 1999 film. His role in The Boy From Oz landed him a Tony in 2004, while he returned to musicals for the 2012 cinema adaptation of Les Misérables. Jackman played Jean Valjean, receiving a Golden Globe, an Oscar nomination, and a Bafta nomination.
And then there's The Greatest Showman. Jackman played PT Barnum in the 2017 musical film, alongside Zendaya, Zac Efron, Michelle Williams, and others. The soundtrack, as the BBC reports, has achieved record-breaking success: it stayed at number one in the UK album charts for 11 weeks, matching Adele's record for her second album, 21, and almost a year after its release, it's still sitting comfortably at number three. In the U.S., according to Rolling Stone, the soundtrack sold more than any other album this year, spending over 30 weeks in the top 10 of the U.S. album chart.
In short? If Hugh Jackman's tour attracts even a fraction of the demand for The Greatest Showman, it's likely to pack out every arena it lands in. Missed out on tickets for the Spice Girls' reunion tour? This time, you'd better get prepared.