Buying Weed Legally In Massachusetts Is Now A Thing — Here's What To Know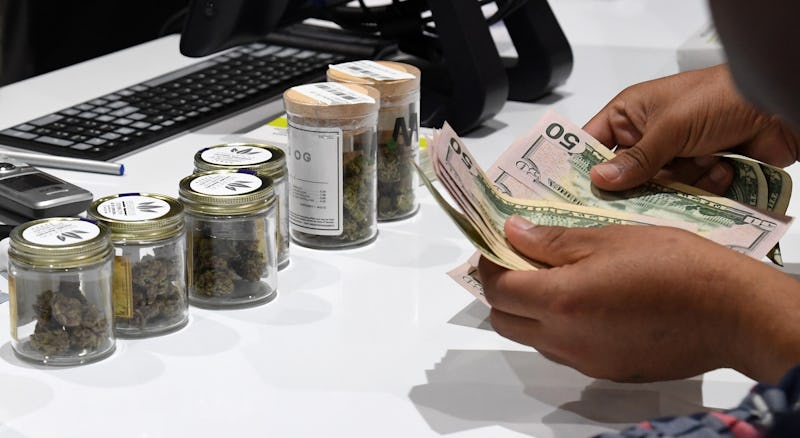 Ethan Miller/Getty Images News/Getty Images
Massachusetts voters legalized recreational marijuana more than two years ago — but Tuesday marked the first day that recreational users can go buy their pot at a store. The rollout has been slow, and the locations are limited, but learning how to get weed in Massachusetts is altogether straightforward. Two stores in the state are open for business, assuming you're 21 or older.
Because of the state's cautious rollout and complicated rules for vendors — reportedly to prevent a surge in crime — just two stores are open for recreational sales. One is Cultivate Holdings in Leicester, outside of Worcester, and the other is New England Treatment Access (NETA) in Northampton, in the western part of the state off Interstate 91. For many, that means a drive will be involved.
Once you're at a store, you need a government ID to prove you're 21 and can enter — you can't bring anyone with you who's underage either. If you go on Tuesday, you'll likely have to wait in line to get in, according to reports on Twitter. Police are present to help with traffic.
You can buy up to one ounce of marijuana or five grams of concentrate as a recreational user. That means that many edibles aren't for you (they're too strong). Also, keep in mind that cash might be the simplest form of payment, though debit card transactions are expected to be online in the next couple days at both stores. NETA can already take any card with a PIN set up, according to Boston.com.
If you're from out of state, you're going to want to pay special attention to the federal prohibition on marijuana. That means that even if you buy it legally in Massachusetts, you cannot legally drive over a border with marijuana in your car — even if the state you drive into also has legalized recreational marijuana. Using marijuana in public in Massachusetts remains illegal, too.
When you've decided which of the two locations you're going to visit, it's worth checking out its website. NETA, for example, has a guide on what you might want to know, and their entire product catalog is available for download, too. In addition, you can even place an order on your smartphone and then pick it up when it's ready to avoid lines.
Any Massachusetts resident who has a medical marijuana card should not forget it at home. There are different rules for the recreational users. They have more limits on quantity purchased and the strength of edibles. Not to mention, they also pay additional taxes. For recreational users, there are actually several taxes that apply: sales tax, excise tax, and local tax that in total are about 20 percent.
Medical users might even want to consider one of the other medical dispensaries around the state (there are some 40 more) where there won't be such a huge turnout on Tuesday.
Massachusetts is the first state with legal recreational retail sales east of the Mississippi. In total, 10 states and D.C. have legalized recreational pot, and 33 states have legalized medical marijuana.
And, in addition to following all the rules, don't forget to consume responsibly.