How To Go Teal Like Bella Thorne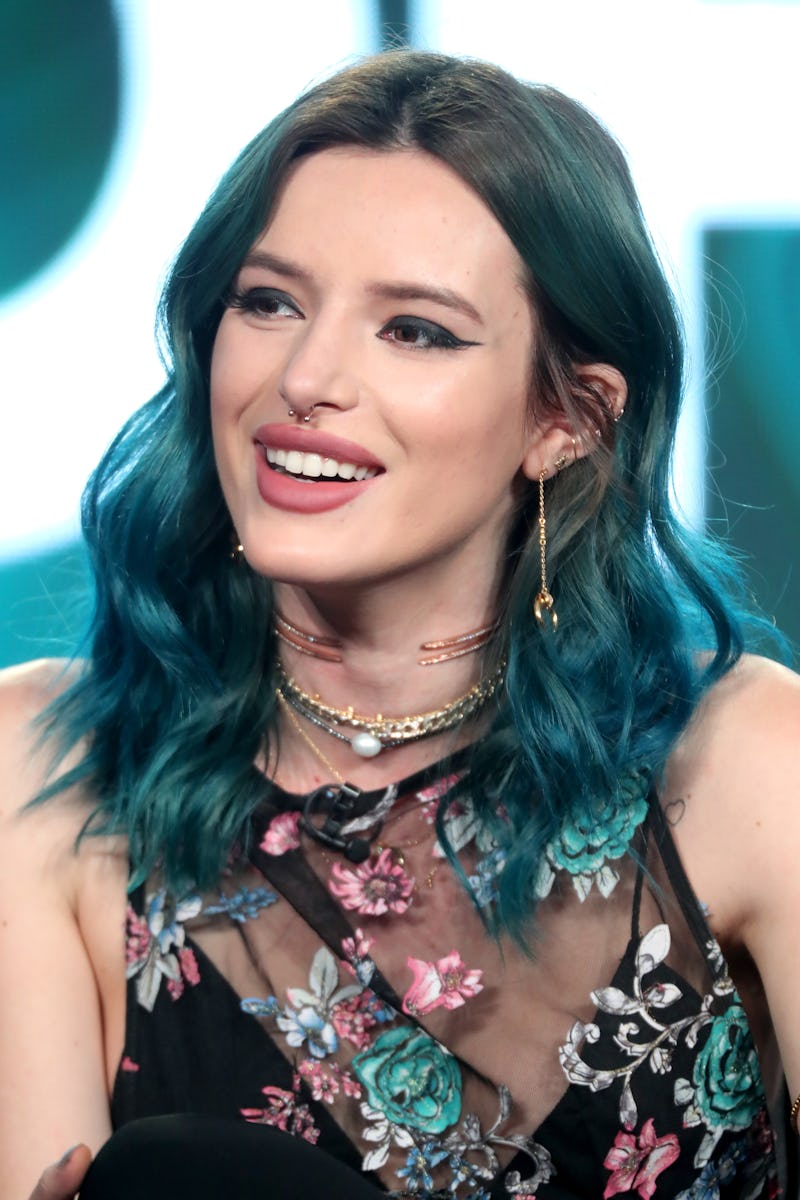 Frederick M. Brown/Getty Images Entertainment/Getty Images
You might have already seen it all over social media, but Bella Thorne traded in her auburn locks for teal mermaid. Oceanic blue, to be exact, and it's gorgeous. Now, seeing that the young pop star and newly minted Biore ambassador has quite the following, there's no doubt that fans of both Thorne and all things beauty will start following suit. But it raises the question — how can you go teal like Bella Thorne? Her colorist, Brighton Salon's Dennis Ramirez, gave me the deets.
As someone who constantly dyes her hair in a number of bright colors (purple, teal, pink), I'm always on the lookout for the best way to maintain the fashionably vibrant colors without letting them fade or dull too quickly. If not taken care of properly, it can end up looking, well, drab.
Here are some things to remember: you have to make sure you're caring for your hair even before you decide to switch up the color, since bleaching can cause a lot of damage. As someone who goes from nearly black hair to a color light enough for a bright pink, trust me when I say, it can easily lead to brittle hair. With Ramirez's tips, you'll be sure to keep your hair as healthy as can be while making sure the color stands out!
How To Go Teal
"To achieve a bright mermaid color, the hair must be lifted to a blonde shade. The lighter the blonde, the more intense your color will be. Once you have achieved a blonde tone safely, the possibilities are endless! Blue, green, teal, gray, purple, yellow, silver...be bold! As the colors begin to soften, new looks emerge, ultimately fading into trendy pastel tones, perfect for an effortlessly changing look."
How To Maintain the Color
"Maintaining these colors at home will take a little effort. Always wash your hair in cold water and with a color-safe shampoo, which will keep your color sealed in and from bleeding into each other. Any pigmented shampoo such as red, blue, silver can also help in maintaining certain shades, depending on the color in your hair. Ask your stylist about a custom color conditioner, which can easily be made tailored to your unique shade."
If you aren't convinced you should try something bold, just take another look at this photo — Thorne is loving the teal!
When it comes to hair, why not have a little fun with it and let your personality shine? At least you know how to do it properly while keeping your hair healthy and shiny, too.