How To Deal If You're Having Thanksgiving With Your Partner's Family & You're Freaking Out RN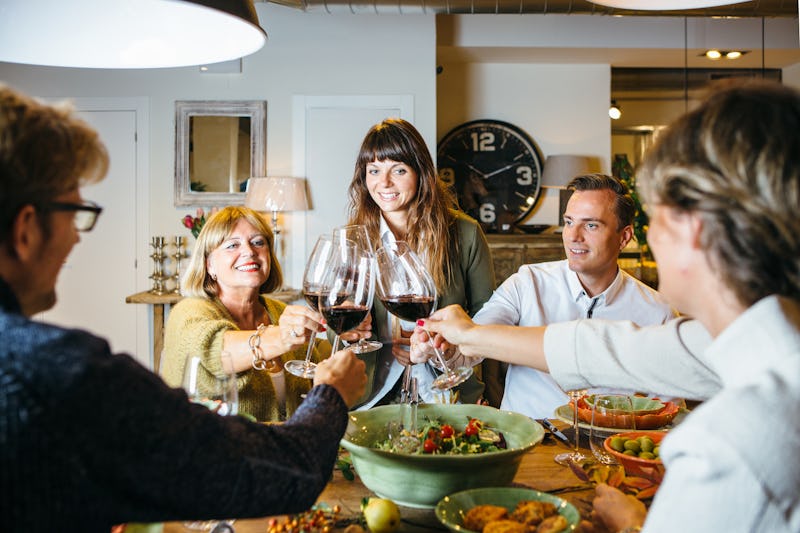 Fotolia
Going home for the holidays can be a stressful time for everyone — but when you're in a long-term relationship, there's a good chance you end up spending some of the holidays with your partner's family. If that's what you're up to Thanksgiving and you're feeling nervous (or, you know, just an impending sense of full-blown terror) then you are definitely not alone. I spent Easter with my girlfriend's family this year and nearly hyperventilated on the way to dinner, and I get along with her family. It feels like a huge relationship step, plus you're dealing with their family tensions and trying to navigate them as an outsider. Oh, and on top of that, you need to support your partner if they're feeling stressed. It can end up feeling like you need to be on your best behavior — engaging, bright, upbeat — all the time, often to the point of exhaustion.
But trying to stay positive is also so important. "Be as light and breezy as possible," matchmaker and dating coach Karenna Alexander tells Bustle. "Lots of stressful things can come up. You don't want to add to the stress, so try to be the light and breezy one, the one who lets things roll of your back. Why stress yourself out with unimportant things? Try to let things roll off your back and have a good time! If you adopt this attitude you will actually be doing your partner a favor as well, as [they] will take cues from you, and if you are happy and unfazed by any family drama, [they] will likely not let it get to [them] either."
It's good advice, but it's easier said then done. If you're heading to your partner's family for Thanksgiving, here's what you need to bear in mind to help it go as smoothly as possible.