Here's How You Can Help Animals Stay Safe & Escape The California Wildfires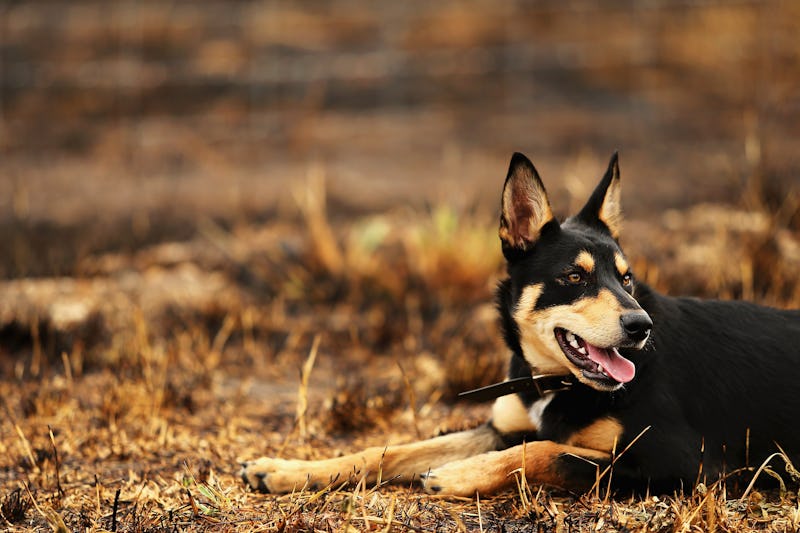 Daniel Kalisz/Getty Images News/Getty Images
As blazes continue to sweep across the greater Los Angeles area, residents are forced to face the question of how to protect animals from the Southern California wildfires. Disasters like these pose just as much of a threat to animals as to humans, and in some cases, even more so.
Over 110,000 acres had burned across Southern California as of Thursday. Thousands of people had evacuated, at least 322 schools had closed, and highways — including the major 101 Freeway and the 405 Freeway — had been shut down. Threats of 80 mph winds increased the danger of fires spreading suddenly to new locations. This, along with the exceptional dryness of local plant material this year, forced firefighters to use a purple, or "extreme," color alert on maps for the first time ever when assessing the fire threat.
The risks that animals face during wildfires include exposure to smoke, anxiety, getting lost after fleeing a blaze, and of course the serious threat from the blazes themselves, including injuries that could potentially be fatal. Luckily, there are many things you can do to safeguard your pets and any stray animals right now, and you should also make sure that you prepare for future wildfire and disaster threats.
Help Pets Whose Owners Need To Evacuate.
If for some reason a person can't take their pet with them when they have to evacuate, they need to find someone who will take care of their pets. The Humane Society of Ventura County has been taking in animals since the fires began and is currently in need of donations.
If you can offer an interim home for displaced animals, call Citizens for a Humane Los Angeles at (323)-244-8020. But you don't need to go through an organization to make a difference: Reach out to your pet-owning neighbors to see if they need pet-sitting or other assistance.
Make Sure Your Pet Has Identification.
If you have a pet of your own, making sure it has identification is essential in case you and your pet get separated. Microchips have been shown to be the most effective form of identification, but they're not perfect, because they need to be analyzed by scanners. Someone who finds your animal may not be able to scan the microchip, so it's most effective to use both a microchip and a collar or tag.
Help Pets Deal With Anxiety.
"One could certainly argue that for pets that can't get out as often now except to go potty, there may need to be some intensive puppy fetch or kitty-chase-the-laser sessions to help keep up their fitness as well as occupy their minds and reduce anxiety," Charlie Powell, a Public Information Officer at the Washington State University College of Veterinary Medicine, tells Bustle.
If you are forced to evacuate with your pets, cover cages with a light cloth to lessen their alarm. If you don't own a pet, but would like to help animals who have been affected by the fires — by playing with them to reduce their anxiety, donating materials, or offering other volunteer services — contact shelters in the Los Angeles area.
Protect Your Pet From Smoke.
Close your windows and keep your pets indoors as much as possible to protect them from smoke. When you do need to take them outside for exercise or using the bathroom, make those excursions as short as possible, and try to do it when the air is less smoky (which will probably be when winds are less strong).
Powell says that pets with "pre-existing cardiac or pulmonary issues" are particularly at risk. "Look too, for eye irritation," he says. "The increased level of particulates in the air can be rough on those sensitive tissues." He recommends asking your family veterinarian for advice that is specific to the needs of your pets and any symptoms they may be experiencing.
Make A Disaster Kit That Includes Materials For Your Pets.
Everyone should keep emergency kits in their homes with food, water, cash money, first-aid items, blankets, and medications for themselves. But if you have pets, you should include all of these materials for your pets, too, as well as litter, plastic bags for getting rid of waste, treats and toys, and anything else your animals might need. Keep these items in a waterproof container and put it somewhere that is easy to access — preferably near an exit.
Donate To Help Pets Who Have Been Affected By The Fires.
As mentioned above, the Humane Society of Ventura County has been sheltering hundreds of animals from the blazes and is taking donations — bring food and supplies to its shelter in Ojai, purchase items on its new registry wishlist, or donate money online here. The Los Angeles County Animal Care Foundation also needs donations, which can be submitted on its website here.