How To Help Communities Affected By The Shutdown, Because There's No End In Sight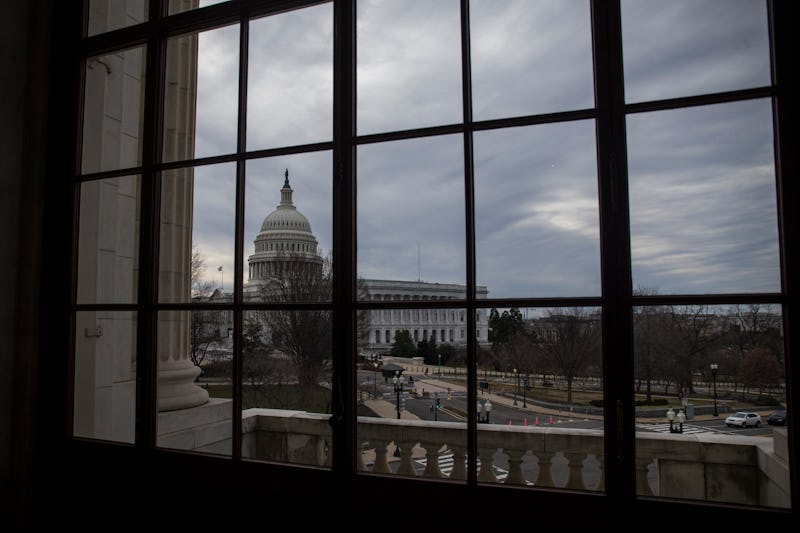 Zach Gibson/Getty Images News/Getty Images
The partial government shutdown has dragged on for well over a week, and currently there is no end in sight. In the meantime, hundreds of thousands of federal workers, government contractors, and their families are enduring without paychecks — and that's causing serious problems in communities nationwide. If you're wondering how to get involved, there are a few tips on how to help communities affected by the government shutdown.
Congress will begin a new session on Thursday, and one of its most pressing priorities will be passing a funding bill to get the government back open. But with a newly Democratic House and a Republican Senate and White House, it's looking like an uphill climb to pass a bill everyone is happy with. Vox reported Wednesday that the House has two funding bills ready to go, one of which is a short-term spending bill to fund the Department of Homeland Security — but not the border wall Trump has been pushing for.
Sen. Majority Leader Mitch McConnell told NBC's Frank Thorpe that he would not bring either of the House bills to the floor since he does not think Trump would approve them without border wall funding. So even if they do pass the House, they could be pretty much dead after that. This impasse is creating a strain on the environment, health care access, home loan applications, and more. Until it's cleared up at the federal level, here are some ways you can help.