9 Ways You Can Help Florida Right Now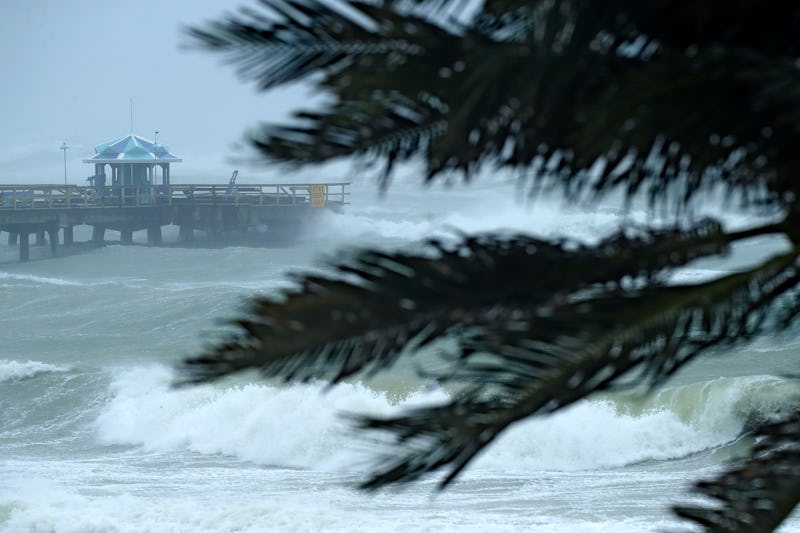 Chip Somodevilla/Getty Images News/Getty Images
Hurricane Irma made landfall in Florida on Sunday as a Category 4 storm of historic proportions. Irma brought winds of 130 miles per hour, heavy rain, and strong storm surges to the Florida Keys, south Florida, and other parts of the state. Needless to say, widespread damage to buildings and streets was imminent. After weeks of rallying around Houston, Americans from across the country were ready to show the same love for Florida. While the storm rages on, you can help Florida face Hurricane Irma by sending money, giving time, or spreading the word.
There's no denying Irma's strength: More than 5 million Floridians were ordered to evacuate ahead of the storm — that's roughly a quarter of the state's population. As of Sunday morning, shortly after Irma made landfall, more than 1 million homes and businesses across the state had lost power. For most of the state, the storm was far from over. Irma was expected to make its way through Florida over Sunday and much of Monday, heading north to Georgia on Monday and Tuesday.
As Irma continued to wreak havoc on the Sunshine State, relief funds and charitable campaigns emerged by the handful. After witnessing the devastation caused by Hurricane Harvey in south Texas, it seemed Americans were re-energized to help once again.
Donate Via GoFundMe
As it did with Hurricane Harvey, GoFundMe once again set up a central landing page for fundraising campaigns related to Hurricane Irma. The Irma Relief page overflowed with ways to give, as individuals raised money for their personal cleanup efforts and for the cleanup efforts of others. Fundraisers sought donations not just for Florida, but for many Caribbean communities, as well.
Volunteer Your Nursing Skills
Florida Gov. Rick Scott said on Saturday that Florida's storm shelters needed more nurses to volunteer their services. According to The Miami Herald, about 1,000 more nurses were needed, particularly in the state's special needs shelters. Anyone willing to help was asked to email BPRCHDpreparedness@FLHealth.gov. Please note: It may not be safe for you to travel through flooded areas during the storm. Consider the conditions before departing.
Take In Evacuees
Airbnb encouraged homeowners from the Florida panhandle to the Atlanta metro area and the Carolinas to offer up their empty space to accomodate those affected by Hurricane Irma. Homeowners could sign their homes up as free places for displaced people and traveling relief workers to stay during the storm. As of Sunday, 116 hosts had made their homes available for free.
Fund Local Relief Organizations
GlobalGiving, a crowdfunding platform for charitable campaigns, launched an online fundraiser for Hurricane Irma relief with a goal of raising $2 million. The Hurricane Irma Relief Fund would be used to fund the efforts of local relief organizations, which often know the affected communities and their needs better than outside sources. As of Sunday, GlobalGiving had already raised more than $100,000 for the relief fund.
Fund Health Care Services
MedShare delivers medical supplies and services around the world. In the wake of Hurricane Irma, the Charity Navigator-approved organization set up a Hurricane Irma Disaster Relief fund to collect donations for its efforts to provide healthcare supplies and services to the affected communities.
Save The Animals
During evacuation efforts ahead of Hurricane Irma, many animals in the storm's path were rushed to safety. Still, shelters and rescue organizations prepared to take in more displaced pets and work to reunite them with their families after the storm. Best Friends Animal Society requested donations and supplies as it responded to the storm. The Humane Society of the U.S. also set up a donation page on its website.
Give To Children & Families
According to Save the Children, more than 4 million children are in the path of Hurricane Irma. The international relief organization requested donations to support the at-risk children and families affected by the storm. To give, you can donate online or by texting IRMA to 20222.
Stand With Former Presidents
Following the devastation of Hurricane Harvey, all five living former presidents, from Jimmy Carter through Barack Obama, joined together to raise money for relief efforts. Now, they are adding Hurricane Irma relief to their cause, calling on Americans to come together in support. You can donate to One America Appeal online.
Support What Matters To You
Dozens of organizations have committed themselves to Hurricane Irma relief. If you're looking for a way to help that matters to you, visit Charity Navigator's list of Hurricane Irma relief organizations to find credible organizations that are giving back.
Of course, if you can't spare any money, time, or resources, consider doing your part by spreading the word. Hurricane conditions can change unpredictably, and it's important that everyone in Irma's path remain vigilant. Keep each other updated on Irma's path, tornado warnings, and shelter locations.