Here's How To Help Hawaiians Near The Volcano That's Erupting — From Wherever You Are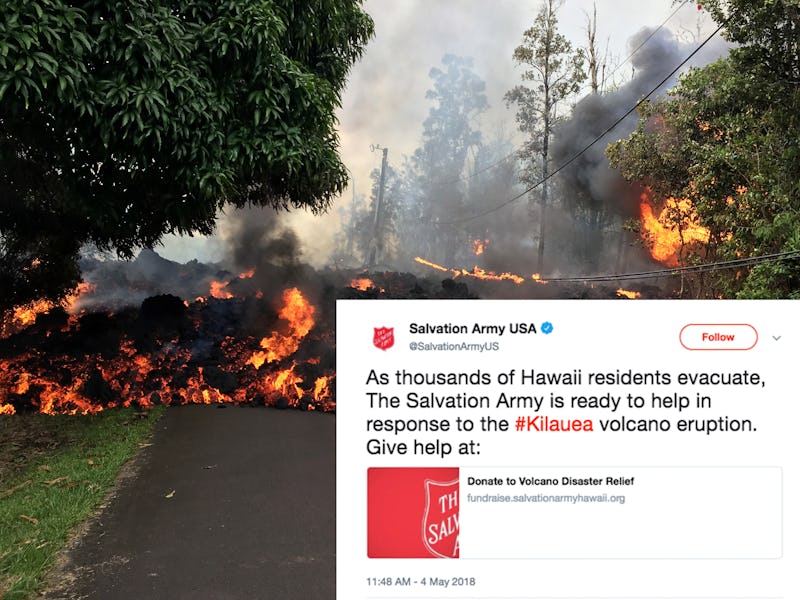 Handout/Getty Images News/Getty Images; Salvation Army/Twitter
An eruption of the Kilauea volcano on the eastern edge of the island of Hawaii has left dozens homeless, and thousands more are being kept from their property for their own safety. A mixture of lava bubbling to the surface of the land and noxious gases in the air have made whole neighborhoods uninhabitable. So far locals are safe, but property damage has affected entire families. Here's how to help Hawaii volcano victims during this time of need.
There's currently no estimate for when the tremors and lava flows from Kilauea will stop. The volcano has been erupting almost continuously since 1983, and it's the Big Island's youngest and most active volcano, resulting in a large lava flow.
That's not great news for residents in the area. There's no way for many to get back to their homes — even just temporarily to salvage what's left. "The best way to protect yourself and your family from the extremely dangerous volcanic gases is to leave the immediate area of the volcano defined by the police and fire department," a statement from the Hawaii Emergency Management Agency read. Store-bought masks do not offer protection.
Many have found temporary relief living with friends or family, but those who have lost everything will need all the help they can get. About 1,700 people were evacuated from the neighborhood of Leilani Estates, and 26 homes were destroyed, according to The Washington Post. Consider these steps to show those displaced by the Hawaii volcano that you care.