How To Help Hurricane Dorian Victims In The Bahamas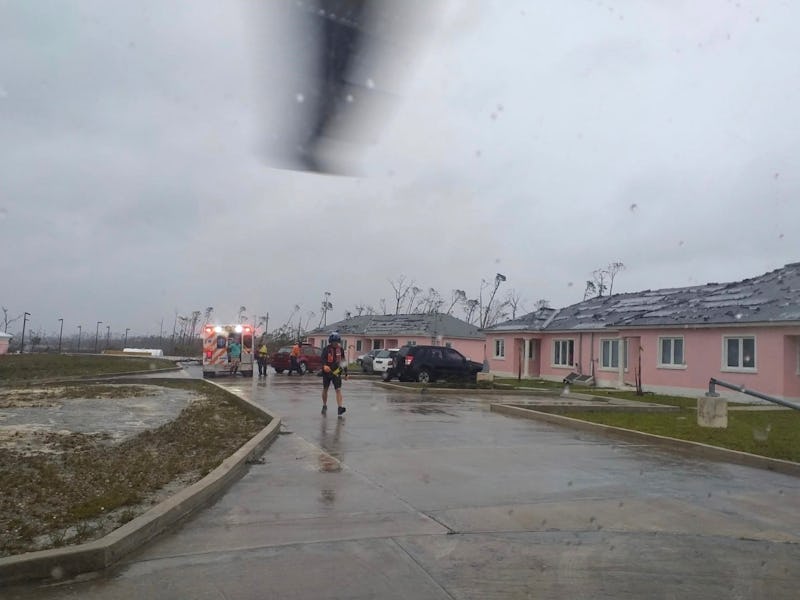 Handout/Getty Images News/Getty Images
Over Labor Day weekend, Hurricane Dorian slammed into the Bahamas, leaving widespread devastation and multiple fatalities in its wake. Now, thousands of homes have been destroyed by the catastrophic storm, and many people are without food or water. But as recovery efforts begin, there are many ways you can help the Bahamas after Hurricane Dorian, even if you live thousands of miles away.
According to the Associated Press, over 13,000 homes were destroyed by Hurricane Dorian, which is the equivalent of approximately 45% of all homes on Grand Bahama and Abaco. What's more, the publication reports that over 60,000 people are in need of food, and around 62,000 people are in need of clean drinking water.
To USA Today, one Bahamian resident named Brandisha Adderley shared her experience of surviving Dorian. She said,
We had to vacate the home in the midst of the storm as it collapsed around us. When we lost our home we made it over to our neighbor, who is also a relative. Their home was compromised with the exception of one room. We all gathered there for part of the storm. The worst part was having to physically get into the storm not knowing what to expect, especially with my two year old daughter.
Adderley continued, "We have no idea where we will stay or go once the weather leaves. No idea."
Here are some of the ways you can help the Bahamas begin to recover after suffering a disastrous blow from Hurricane Dorian: