Here's How You Can Help Hurricane Harvey Victims From Anywhere In The Country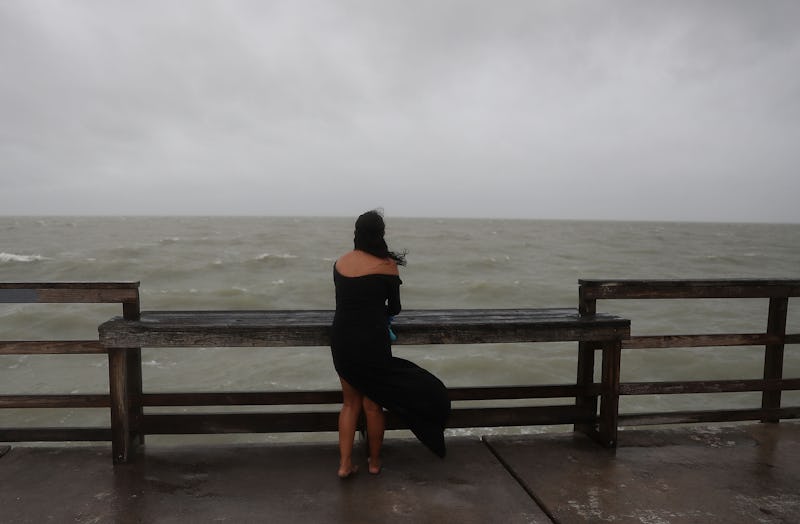 Joe Raedle/Getty Images News/Getty Images
The Texas coastline is bracing for Hurricane Harvey as residents in areas along its path flee for what is expected to be among the worst hurricanes Texas has seen in nearly two decades. But whether you live in neighboring New Mexico, across the Gulf of Mexico in Florida, or half a dozen states away in New York, you can help those affected by Hurricane Harvey.
The storm is expected to make landfall near Corpus Christi as a Category 3 hurricane or higher sometime early Saturday, and is likely to cause massive amounts of damage with the potential to displace hundreds of people.
As Hurricane Harvey begins to sweep toward the Texas coast, bringing with it life-threatening storm surges, flooding, severe wind, and heavy rain, mandatory evacuations have been ordered in at least seven coastal counties, according to The New York Times.
But some residents may find they're not able to return to their homes once Harvey has swept through town. Hurricane Harvey is expected to bring up to 25 inches of rain, winds of at least 111 miles per hour, and potentially life-threatening storm surge some 6 to 12 feet above ground level to much of Texas' coastal region. And according to the National Weather Service in Houston, Harvey may leave some parts of South Texas "uninhabitable for weeks or months."
Organizations like the Central Texas Red Cross, the National Relief Network, Samaritan's Purse, and Southern Baptist Disaster Relief are all preparing to help those displaced or otherwise affected by Hurricane Harvey; both donations and volunteers are needed. You can also contribute to Global Giving's Hurricane Harvey Relief Fund, which will reportedly go toward helping first responders meet the immediate food, fuel, hygiene, shelter and clean water needs of those impacted by Hurricane Harvey. The fund will then transition to support the long-term recovery efforts being run by local, vetted organizations.
To help the youngest of those impacted or displaced by Hurricane Harvey, consider making a donation to the Texas Diaper Bank, which is putting together disaster relief kits for families with young children. Kits include diapers, of course, as well as other necessities vital for keeping babies clean and healthy. According to the Texas Diaper Bank, while disaster relief organizations help those in need with vital goods and services, diapers are usually not provided. Donations can be made online quite easily through the Diaper Bank's website.
Save the Children Federation Inc. is also reportedly working to help children and families in the path of the hurricane and create "child friendly" spaces in shelters. Donations to the charity's Children's Emergency Fund enable the organization to provide critically-needed assistance during the early hours and days of a disaster. You can also donate directly to the organization's Hurricane Harvey Children's Relief Fund.
It can be easy to focus on how Hurricane Harvey is likely to impact humans, but when natural disasters strike many animals are left trapped and helpless. The organization Austin Pets Alive! in Austin, Texas, is preparing to take on animals from shelters located in Harvey's path but needs help providing these animals with the care, food, shelter, and love they require. Check out how you can help here. Whether you're local and can volunteer your time or home to foster an animal, or are located across the country and can provide much-needed supplies or a one-time financial donation, every bit helps.
According to many meteorologists, Hurricane Harvey could prove to be as powerful and devastating as Hurricane Katrina was, meaning those in the line of the storm will undoubtedly need help in the coming days.