There Was A Major Earthquake On The Iran-Iraq Border & Here's How You Can Help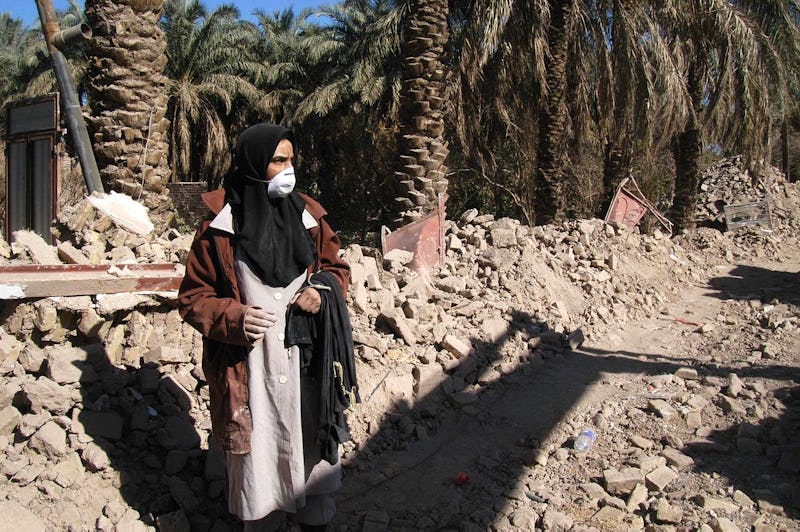 Getty Images/Getty Images News/Getty Images
At least 340 people were killed and more than 5,000 others wounded when a powerful earthquake hit the border of Iran and Iraq on Sunday. Rescue teams had a difficult time getting to the affected area because of landslides triggered by the 7.3 magnitude quake and dozens of subsequent aftershocks, but continue to search for missing people under collapsed buildings. The tragedy will have a lasting impact on the region, but there are a few ways to help victims of the Iran-Iraq earthquake from afar.
The quake is the largest the area has experienced in years, and roughly 70,000 Iranians were left without shelter, according to local aid agency the Iranian Red Crescent. Iran was hit the hardest, but at least seven people died on the other side of the border in Iraq.
Iraqi Prime Minister Haider al-Abadi wrote in a statement Sunday that he instructed government teams to respond to the disaster, according to the Associated Press. Iranian President Hassan Rouhani plans to visit the devastated region of the country on Tuesday.
Additionally, Turkish Prime Minister Binali Yildirim immediately offered support, his government flying supplies and aid workers to Iraq. The country's foreign ministry reportedly said Turkey would also assist Iran if asked.
Local aid organizations are already on the ground helping victims in both countries. Here are a few that could use your support, as well as other ways anyone can help those affected by the tragic earthquake.
Relief International
Started by Iranian-Americans following a huge earthquake in Iran in the '90s, Relief International offers emergency assistance after natural disasters. The organization provides food, water, and shelter, and is dedicated to helping communities rebuild long-term. You can donate here.
The International Federation of Red Cross and Red Crescent Societies
While you can't donate directly to the Iranian, Iraqi, or Turkish Red Crescents on the ground in the affected region, this international humanitarian organization works with the international branches. The Turkish Red Crescent has already sent 33 trucks full of supplies — including tents, beds, and food — to the city of Sulaimaniyah in northeastern Iraq. You can donate here to help get more needed supplies to the border.
Iran's Children Charity
Iran's Children Charity, based out of the U.K., aims to lift children out of poverty. The nonprofit provides food, shelter, education, and medical attention to Iranian children, thousands of whom were displaced by the earthquake. You can donate here.
CARE
Also based out of the U.K., the nonprofit CARE responds to emergencies around the world, with a particular focus on ensuring women and girls are safe. On top of living with basic necessities, women are more likely to be assaulted after natural disasters because inequalities are intensified and they're either left without a place to stay or must sleep in a crowded shelter. It's also more difficult for women to support their families after their husband or father dies in areas where girls don't typically receive an education or have the same rights as male family members. CARE aims to help them rebuild. You can donate here.
Keep Attention On The Region
With so many natural disasters striking in such a short period of time, it's easy to get overwhelmed and not know where to focus your attention or assistance. But even if you aren't able to help financially, you can make sure the world doesn't forget about those suffering in Iran and Iraq — whether that means posting about it on social media, sharing news stories about the tragedy, or simply talking about it with your friends.
It will take the affected region years to rebuild from such a destructive earthquake, so it's important to make sure the people of Iran and Iraq aren't overlooked.