How You Can Help Victims Of The Las Vegas Shooting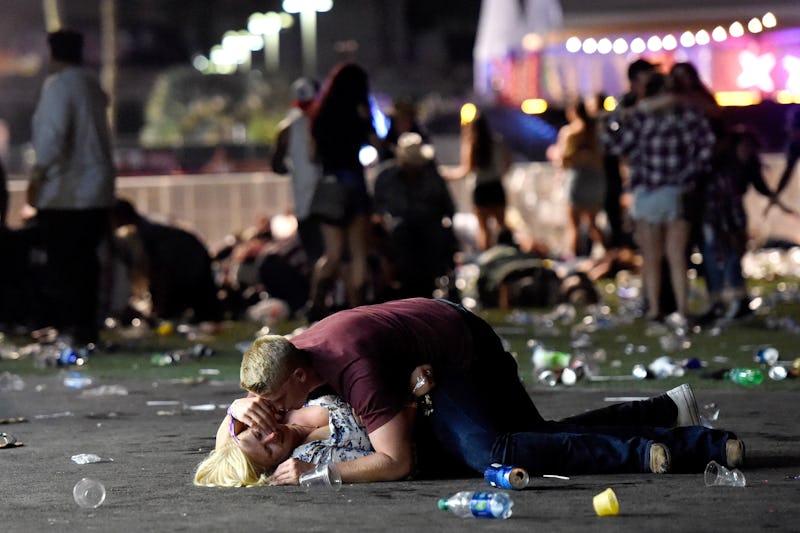 David Becker/Getty Images News/Getty Images
There are few things more disturbing than waking up to new notifications with growing victim counts of a mass shooting. Today, a mass shooting in Las Vegas has so far left more than 50 people dead and more than 200 injured. This devastating attack has left many people in need, and you need to know how to help victims of the Las Vegas shooting. Good thoughts sent over the internet are all well and good — but they need more than that.
The first and most important thing that you can do is donate blood. The number of victims is still rising, and the hospitals in the Las Vegas area will be overflowing with people who have lost a lot of blood and who will need surgery. There are blood donation centers throughout the state of Nevada, all of which will be working at full steam to provide the necessary supplies for the area hospitals. If you're in Las Vegas, go to the nearest one and wait for as long as it takes. If you're not, share this information on your favorite social media site in the hopes that someone in the area sees it. It also helps to donate blood wherever you are, even if you're not in Las Vegas.
Another thing you can do is be careful about what you're posting on social media. In a disaster situation like this, you have to be extra sure that you're only posting articles from vetted news sources, because it really doesn't help to spread rumors or unconfirmed reports. There are already numerous hoaxes circulating the internet about this shooting, and you want to take care to avoid them at all costs. You also don't want to share graphic photos or videos of the attack, and not only because it might disturb someone who sees it — it's also disrespectful to the victims and their families and loved ones, who might still be unsure if the person they know in Vegas is safe or not.
If you'd like to help out with your wallet, a donation to the Red Cross also always helps at a time like this, because they will have been on the ground helping out as soon as news of the shooting emerged. You can also donate to local organizations in Las Vegas, particularly those who provide counseling to those who need it. Many people will be struggling to recover from this event on a mental and emotional level, and you can help get them the care that they need. One such organization to donate to is Volunteers in Medicine of Southern Nevada, which provides mental and physical health care to people who don't have access to it otherwise.
You can also be on the lookout for GoFundMe pages supporting victims of the shooting, as there are sure to be multiple crowdfunding efforts with multiple goals. Crowdfunding efforts often have the potential to go viral quickly and provide a lot of much-needed relief, so taking part in one is a good way to help.
And while this suggestion won't provide much relief to the people who were seriously injured or who lost their lives, yet another mass shooting in the U.S. means that it's a good time to write to your Congressional representatives asking for common sense gun control laws. You can find your senator's or representative's address and even a letter with sample language, if you'd rather not have to think of the words yourself. You never know — perhaps one more heartfelt, handwritten letter might change your congressman's mind.
This is now being reported as one of the deadliest mass shootings in U.S. history, and it will leave hundreds of victims and their loved ones hurting. Whatever you can do to help, however small, will be much appreciated.