How To Help Lombok, Indonesia Earthquake Victims As The Island Recovers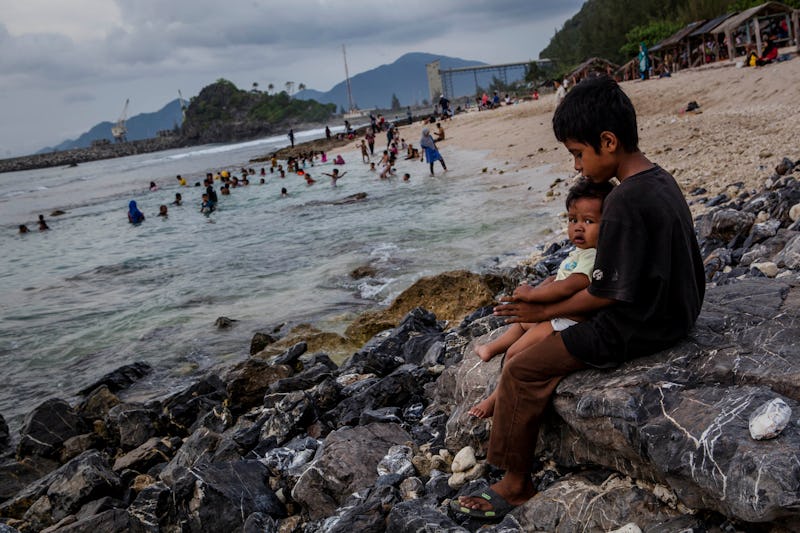 Ulet Ifansasti/Getty Images News/Getty Images
Just a week after a 6.4-magnitude earthquake hit Lombok, Indonesia, another even stronger earthquake rocked the popular island. At least 82 people are dead following the 6.9-magnitude earthquake on Sunday, the Indonesian Red Cross Society confirmed to CNN. And you can find out how to help Lombok, Indonesia earthquake victims as well as the hundreds who have already been taken to local hospitals.
To better understand the destruction caused by the quake, the BBC reported that the earthquake hit about 6.21 miles underground. There was also a tsunami warning for a few hours, according to the international news outlet. Furthermore, Australian Broadcasting Company (ABC) reported aftershocks were as high as 5.4-magnitude. There were at least 100 aftershocks recorded in the day after the initial quake, according to The Guardian.
News of the earthquake has spread across the world. Singaporean Home Affairs Minister K. Shanmugam posted on Facebook about his experience during the quake, as he was on the island at the time attending a conference. He was in his 10th-floor hotel room in Mataram when the quake started. "Suddenly the room shook violently, walls cracked, it was quite impossible to stand up. Heard screams. Came out, and made my way down a staircase, while building was still shaking," Shanmugam wrote, before adding more description of the destruction. "Power went out for a while. Lots of cracks, fallen doors."
Shanmugam wrote that his delegation attending the conference was safe, but other hotel guests were not as lucky. (He did not elaborate.)
People didn't just feel the earthquake in Lombok. Author and model Chrissy Teigen tweeted about experiencing the earthquake while she vacationed in Bali, which is located west of Lombok.
If you want to help those who have been directly affected, here are a few options to consider.