How You Can Help Puerto Rico Get Back On Its Feet After Hurricane Maria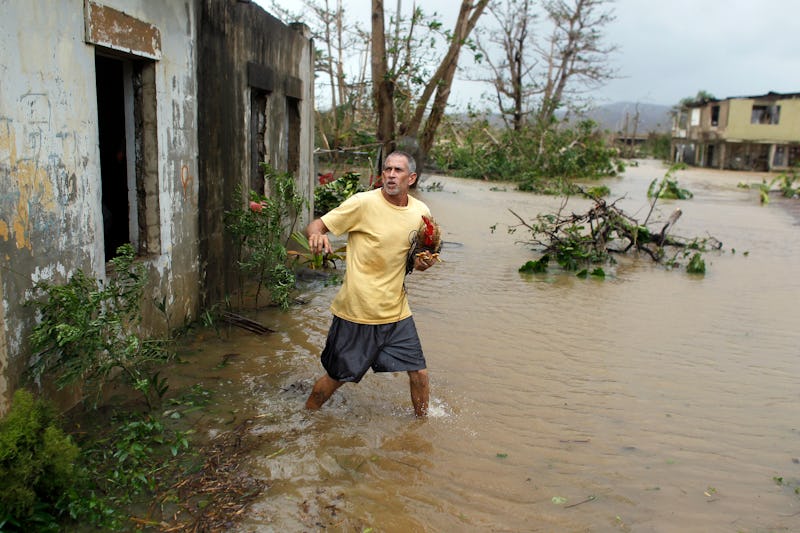 RICARDO ARDUENGO/AFP/Getty Images
Although Hurricane Maria's eye is no longer engulfing Puerto Rico, meteorologists and other weather experts expect that the hurricane's aftermath will cause tremendous flooding and extreme wind gusts in the region. Maria weakened down to a Category 2 hurricane on Wednesda,y but its initial strength conjured up a Category 4 storm with winds at 155 mph, according to hurricane experts. Maria is feared to have weakened Puerto Rico's infrastructure, where the destruction caused by brutal hurricanes Irma and Jose was barely averted only a few days ago. If you want to help Puerto Rico re-stabilize after Hurricane Maria, here are some organizations to check out.
Some of the organizations that are providing urgent aid and on-ground services include:
Catholic Charities of the United States of America
ConPRmetidos
Global Giving
Save The Children
United For Puerto Rico
Puerto Ricans In Action
United Nations Children's Fund
From donations that can help locals acquire food, to monetary help for providing physical shelter to displaced Puerto Ricans, these organizations are covering a wide range of basic necessities to help those who were affected by Hurricane Maria.
Catholic Charities of USA is a Virginia-based organization aimed at reducing poverty in the United States. This time, the charity wishes to help Puerto Ricans by offering relief in the wake of Hurricane Maria. If you want to help, you can text CCUSADISASTER to 71777 to support the charity's relief efforts for locals.
ConPRmetidos is a Puerto Rico-based organization that is currently taking donations to help locals with food, shelter, and water. In addition to that, the non-profit organization aims to help locals with long-term recovery projects.
Global Giving is an organization based in Washington, D.C. The GG team recently shared a donation opportunity for those wishing to help Puerto Rico. You can text MARIA to 80100 to give $10 for relief projects.
Save The Children is another organization aiming to help Puerto Ricans get back on their feet after Hurricane Maria's devastation. This particular organization focuses on helping children who may have lost their parents or guardians during the natural disaster. You can learn more about donating to Save The Children here.
Spearheaded by the First Lady of Puerto Rico, Beatriz Rosselló, United For Puerto Rico is also taking donations online, via phone, or text message. There is also a relief fund set up by Puerto Ricans In Action, an organization established by Los Angeles' Puerto Rican community; this group aims to help the victims of Hurricanes Maria and Irma through donations to local charity projects.
Last, but not the least, United Nations Children Fund is currently accepting donations to help not only the young victims of Hurricane Maria in Puerto Rico and other parts of the Caribbean, but also those of Hurricane Irma and the children of Mexico hit by the most recent earthquake in that country. Those interested in donating to the relief efforts can give donations in the form of $50, $75, $100, $200, $500, and $1,000 gifts. You are also given an option to give your own decided amount of money. You can learn more about the organization's efforts here.
At this moment, weather experts and locals officials in the affected areas are trying to assess just how significant the damage wreaked by Hurricane Maria has been in Puerto Rico. According to the Weather Channel, one rain gauge in Puerto Rico has reported a stunning 30 inches of rain due to Hurricane Maria. Experts believe that the water levels in the region may rise higher. Photos and videos from the country show torn rooftops, unhinged doors, and flooded neighborhoods. By donating to any of these organizations, you will be alleviating that trauma — which is desperately needed.