How To Help Sudan After Peaceful Protests Were Met With Horrific Violence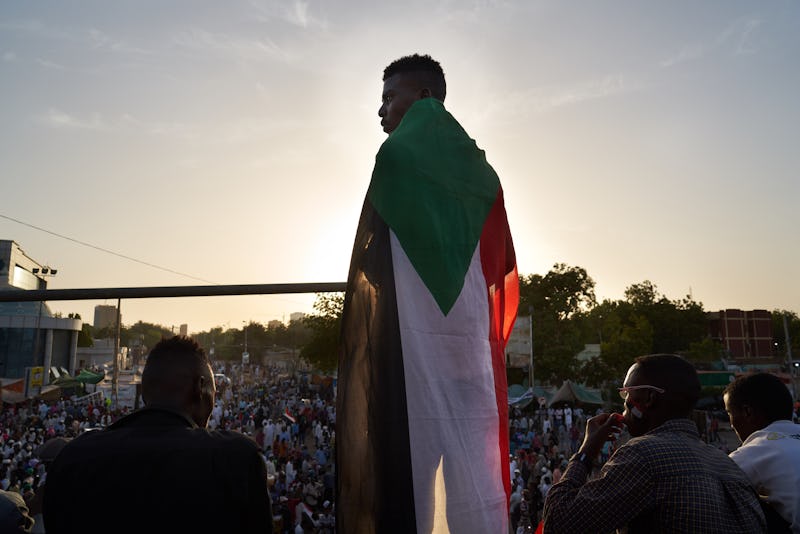 David Degner/Getty Images News/Getty Images
In April, protests and a military coup led to the ousting of Sudanese President Omar al-Bashir, who had been in power since 1989. Following Bashir's removal, unarmed pro-democracy protesters have been calling for civilian — rather than military — rule. However, military forces responded to these peaceful efforts with force, and medical officials say that at least 100 people have been killed. If you are wondering how to help Sudan after protests were met with such violence, you have a list of options.
In 2008, the International Criminal Court filed charges against Bashir for war crimes and genocide in Darfur, but he did not step down until this year. So when a military coup ousted him from power earlier back in April, protesters worked to make sure another military-ruled government didn't come into power. Instead, they've been advocating for civilian rule.
But on June 3, soldiers from the Sudanese paramilitary Rapid Support Forces — which grew out of militias — raided a pro-democracy protest camp in Khartoum, the capital of Sudan. According to Al Jazeera, the soldiers set the protesters' tents aflame and opened fire, and more than 100 people were killed. Citing a doctors' group, Al Jazeera and Reuters reported but could not confirm that dozens of bodies had been pulled from the Nile following this raid. Doctors also indicated that more than 70 people were raped during the Khartoum raid, per The Guardian.
The Sudanese government has only admitted to 61 deaths, instead of the more than 100 cited by medical officials, The New York Times reported. However, protesters in Sudan have not given up. On Sunday, demonstrators put up barriers in the streets and implemented a general strike in Khartoum, bringing the capital to a standstill, and at least three protesters were killed by security forces. According to NPR, the military is now rounding up employees deemed essential and forcing them to go back to work at gunpoint, and The Root reported that the Rapid Support Forces continue to aggravate the ongoing violence.
As protests continue in Sudan, many people in the country have been unable to access basic necessities, such as food, water, and emergency health care. Here are some ways that you can help the people in Sudan.