The Recounts In Florida Are Extremely Tight — Here's How You Can Help The Candidates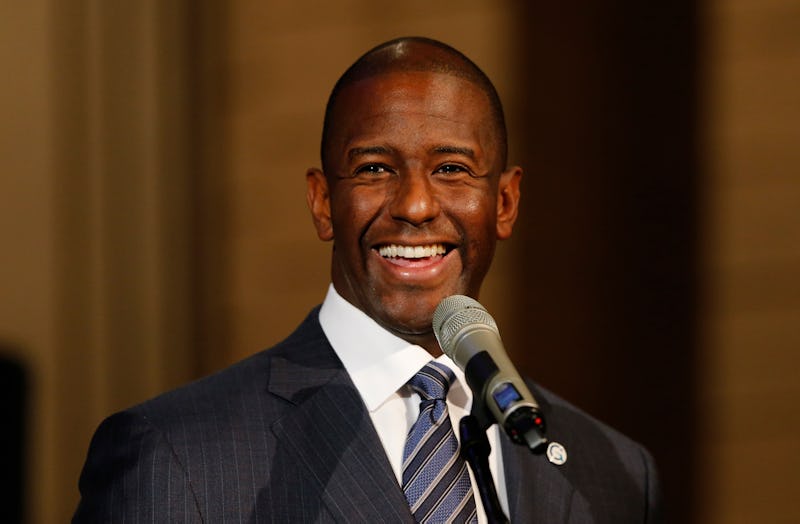 Joe Skipper/Getty Images News/Getty Images
All eyes are on Florida this week as officials recount the ballots in three extremely tight midterms races. Luckily, you don't have to sit idly by if you care about the results. There are several ways you can help the Florida recounts right now.
The closest race seems to be the one with the lowest profile: Democrat Nikki Fried and Republican Matt Caldwell are competing to become the state's Commissioner of Agriculture and Consumer Services — a position that has a broad range of important duties, including overseeing concealed-weapon licensing. Fried is slightly ahead and says (somewhat preemptively) she's already beginning her transition into the job. Then there's the governor's race between Democrat Andrew Gillum and Republican Ron DeSantis, which has received huge national attention. An 11:45 p.m. ET update from The New York Times on Wednesday had DeSantis up by about 0.4 points.
In what is possibly the state's most significant race, Democrat Bill Nelson is squaring off with Republican Rick Scott for an open U.S. Senate seat. An 11:45 p.m. ET New York Times update showed Scott leading Nelson by about 0.2 points. Nelson, Gillum, and Fried would all be winning blue seats in a fairly red state and are putting up a strong fight to do so. On Tuesday, they filed three election lawsuits in a federal court that they hope will result in many previously-invalidated ballots being logged.
If you live in Florida, the most important thing you can do is make sure your vote was counted. If you mailed in your ballot, visit the Division of Elections online, input your information, click "Ballot and precinct information," and see whether the ballot you cast has been registered. If you used a provisional ballot, you should receive a mailed confirmation that your vote was logged, according to TCPalm. Leon County's Supervisor of Elections office tells Bustle early Wednesday afternoon that it hadn't yet sent out all the confirmations — so you don't necessarily have to worry if you haven't received one. But it's still a good idea to check in with your county's Supervisor of Elections to make sure that yours is coming.
Verifying ballots cast in person is harder. In fact, most Florida counties have no way for voters to do so, according to TCPalm. The ones that do — including St. Lucie, Indian River, and Martin — log their ballots online with the Division of Elections, too, so check there.
Florida also needs volunteers. Nelson's campaign is organizing recruitment for his own recount as well as Gillum's and Fried's. His campaign announced a need for "people who can help out in a variety of roles in the recount process, including observing at polls, data processing, and logistics organization." You can sign up here. If you're a lawyer and live in the area, you're an even more precious commodity right now — sign up here to offer your services to their campaigns.
If you don't live anywhere near Florida, you can still help by donating to the campaigns of your choice in these tight races. Nelson is taking donations here; Gillum, here; and Fried, here. Scott's taking them here; DeSantis, here; Caldwell, here.
Georgia's governor race could also use your assistance, even though it isn't going through a recount. Many people there are still struggling to get their initial votes counted. On Tuesday, a federal judge ruled that Secretary of State Brian Kemp — the Republican candidate — wrongfully rejected many absentee and provisional ballots. Officials are still counting up all the votes, and if the margin between Kemp and Democrat Stacey Abrams narrows enough, the two candidates will move into a Dec. 4 runoff. Donate to Abrams' campaign or sign up to volunteer here (she's truly relying on volunteers right now). Donate to Kemp here. Double check that your ballot was counted by calling the Voter Protection Hotline at 1-888-730-5816.
"This process is about one thing," Nelson's campaign announced on Saturday, regarding the recount. "Making sure every legal ballot is counted and protecting the right of every Floridian to participate in our democracy." Make sure that happens by lending a hand today.