Here's What You Can Do To Help The Homeless When Hurricane Irma Hits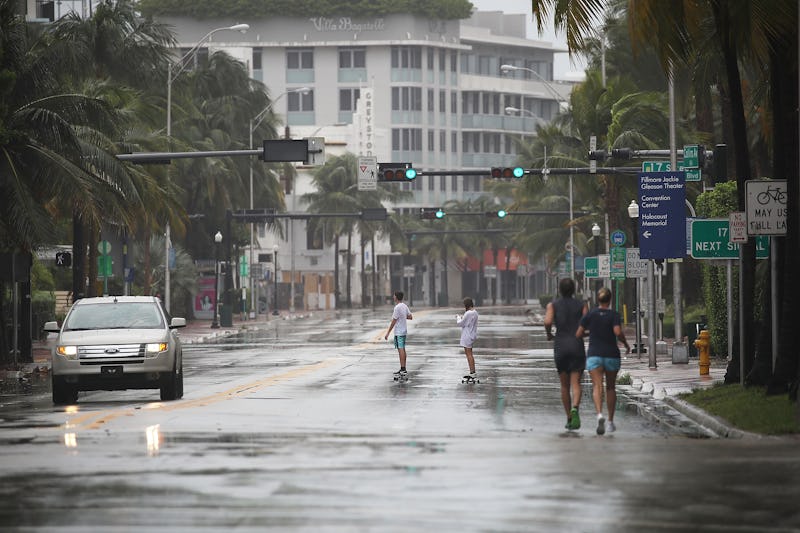 Joe Raedle/Getty Images News/Getty Images
With Hurricane Irma barreling towards the southeastern United States, millions of Florida residents are being forced to evacuate. And while evacuation can be complicated and potentially dangerous for many people, for Floridians who are homeless, getting to safety during a storm can be especially challenging. Fortunately, a number of organizations are working to help the homeless during Hurricane Irma, and you can assist them by donating your time, money, or even your home.
Some communities in Irma's path have already taken preventative measures to ensure the safety of their homeless populations. In Miami, the estimated 1,100 homeless individuals in the city were told to enter storm shelters, or be forcibly detained for a mental health evaluation. While shocking, institutionalizing individuals against their will is in fact legal under the Baker Act, which allows authorities to detain people who present a danger to themselves or others.
"I am not going to sign suicide notes for people who are homeless in my community. I am just not going to do it," chairman of the Miami-Dade Homeless Trust said in justifying his decision to invoke the Baker Act. Other areas have homeless evacuation plans in place, but tens of thousands of individuals without homes will still be vulnerable during what is could be one of the most devastating storms in Florida's history.
Here are some ways you can help the homeless population during Hurricane Irma.