You Can Support The London Attack Victims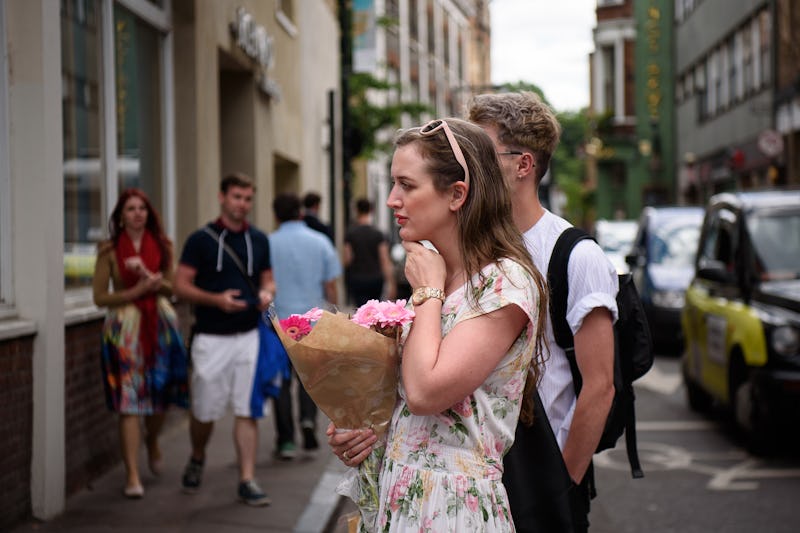 Leon Neal/Getty Images News/Getty Images
At least seven people were killed and another 48 were injured Saturday in an attack on London Bridge and Borough Market in central London. Londoners rushed to help those in need after three men in a van reportedly plowed into pedestrians on one of London's famed bridges before going on a stabbing spree. As Britain grapples with the aftermath of its third terror attack in just three months, many within the international community are reaching out to offer support and assistance. Whether you're local or across the pond, there are ways you can help victims of the London Bridge attack.
In the immediate aftermath of the London attack many Londoners took advantage of a new feature recently rolled out by Facebook that allows users to find or provide help during an emergency. Through the feature, residents offered food, comfort, free rides, and safe places to shelter for the night to those in need. A similar campaign aimed at offering immediate assistance cropped up on Twitter under the #sofaforLondon hashtag.
While it's likely the need for this type of help dissipates as time wears on, they may still serve as a way to provide comfort and emotional support to those affected and should be remembered in the unfortunate event there is a future attack. Through the Facebook feature, Londoners have continued to provide held through offers of free trauma counseling and free accommodation for family members of victims being treated in nearby hospitals.
In fact, simply Tweeting, Snapchatting, or sharing messages of support on Instagram, Facebook, and other social media networks can be another way to offer support and assistance to victims and emergency personnel. However, be conscientious in regards to what you share and how you talk about the London attack on social media. Avoid using victims to further hate speech or discrimination against marginalized groups.
Although Britain's Terrorism Police have asked anyone with footage of Saturday's attack to send it to authorities, the Metropolitan Police have urged people not to circulate videos or images of the attack online. It goes without saying that sharing gory images or unverified reports is disrespectful and may cause panic.
If you live in or around London, consider donating blood at one of the five hospitals currently treating victims from Saturday's attack. According to the BBC, 14 people were taken to Kings College Hospital, 12 were taken to The Royal London Hospital, nine were taken to St. Thomas' Hospital, five were taken to University College London Hospital, and two were taken to St. Mary's Hospital. Of the more than 45 people injured in Saturday's attack, 21 are reported to be in critical condition.
Another meaningful way to offer support and assistance following the London Bridge attack is to help authorities prevent potential hate crimes against groups bigots wrongfully connect to the suspected assailants.
While there are, for the moment, limited ways those living outside of England can offer tangible help to the victims of the London Bridge attack, there are ways to show solidarity. You can honor those killed in the attack from anywhere in the world by participating in the minute of silence planned for 11 a.m. BST (that would be 6 a.m. EST and 3 a.m. PST) on Tuesday.
The London Bridge attack impacts more than just those who were slain or injured Saturday. Victims' family, friends, communities and the country as a whole will likely struggle to come to terms with what happened. While it can sometimes be difficult to know how best to respond in situations like this, there are a number of ways to offer help to those that have been affected.