How You Can Help The Texas Church Shooting Victims This Very Minute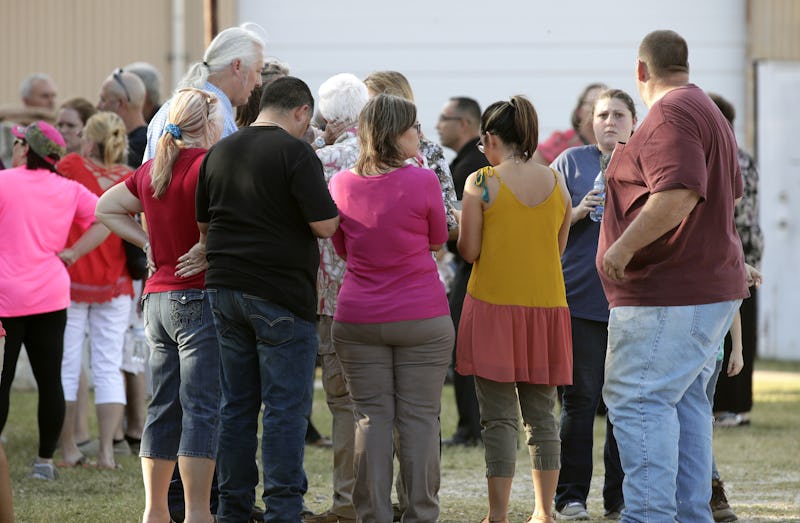 Erich Schlegel/Getty Images News/Getty Images
Tragedy struck Texas on Sunday morning when a gunman entered the First Baptist Church in Sutherland Springs and opened fire, killing at least 25 people and wounding more. While authorities haven't yet determined an official death toll, Sunday's massacre is being called the deadliest church shooting in American history. If you'd like to help the Sutherland Springs church shooting victims and their families, there are a few ways to do so.
The amount of people who were killed in the attack has varied in initial reports, but in a press conference Sunday, Texas Gov. Greg Abbott announced:
I'm sad to tell you, to confirm at least at this moment in time there are 26 lives that have been lost.
That would make it the deadliest church shooting in modern U.S. history by far — previously, the 2015 shooting at Emanuel African Methodist Episcopal Church in Charleston, South Carolina, in which a white supremacist murdered nine parishioners, was the deadliest massacre in a U.S. church. In addition, Abbott also said that Sunday's attack was the deadliest mass shooting in Texas history.
Albert Gamez Jr., commissioner for Wilson County (which includes the town of Sutherland Springs) told CNN:
My heart is broken. ... We never think where it can happen, and it does happen. It doesn't matter where you're at. In a small community, real quiet and everything, and look at this, what can happen.
It's natural to feel both grief-stricken and helpless after tragedies like this, especially given how staggeringly they are: On average, there is about one mass shooting every day in America, depending on how you define "mass shooting," according to the crowdsourced Mass Shooting Tracker. But despite this, you can help mitigate the suffering.
So far, several funds have been established to help those affected by the shootings. One is the Sutherland Springs Shooting Fund, which will provide money directly to the victims of the shooting and is being run by the Hardest Hit Family Relief Fund (HHFRF), an existing charity that provides disaster relief. HHFRF is collecting money both on GoFundMe and directly through its website.
There's also a GoFundMe page raising money for the First Baptist Church of Sutherland Springs itself, where the shooting took place. Its organizer, Kori Freeman Crow, says that all of the money that the fund raises "will be sent directly to [the church] where they can use it for their parishioners' costs as they see fit."
Both Crow's page and the HHFRF fund have been "Certified" by GoFundMe, and Bustle has confirmed with GoFundMe that both funds are legitimate.
In addition, there are several funds raising money for specific victims of the tragedy. Sarah Holcombe Slavin is one such victim: No fewer than eight of her family members were killed in the shooting, and one of her friends established a fund to ensure that she and her children can still make ends meet amidst the nightmare they're going through. Just as noteworthy is a fund for Ryland Ward, a five-year-old who was shot in the massacre and, as of this writing, is in critical condition.
If you happen to live in Texas, you have even more ways to help. All H-E-B locations (for the non-Texans out there, that's a grocery store) are giving customers the option of adding $1, $3, $5, $50 or $100 to their bills, which will go straight the First Baptist Church of Sutherland Springs. There are also several benefit events; here are a few of them, and they probably won't be the last. ones.
In the wake of some mass shootings, local hospitals often put out requests for blood donations to help them treat the wounded. That's what happened after the October shooting in Las Vegas, and thankfully, scores of locals lined up to give blood. As of this writing, there haven't been any urgent requests for blood donors due to the Sutherland Springs shooting. However, mass shootings are tragically common in the U.S., and donating blood now to your local donation center is a great way to help prevent blood shortages in the future. If you live in south Texas, here are a couple of blood centers that would greatly appreciate your donations.
Finally, an excellent way to support victims of the attack is to fight the spread of misinformation, hoaxes, and fake news concerning the shooting. There have been a whole lot so far, and while it would be impossible for any one person to put an end to it, we can all do our part by verifying any information we hear about the shooting before passing it along.
Both the church and the victims of Sunday's shooting could use help right now, and those GoFundMes are a great place to start. And if you're not in a position to give financially, consider donating blood or just being aware of what you're putting on social media or sharing with your friends.
While nothing can eliminate the pain and anguish of these deaths, you can try to help make that pain and anguish a little easier for those who are forced to endure it.