How To Help The Victims Of The London Tower Fire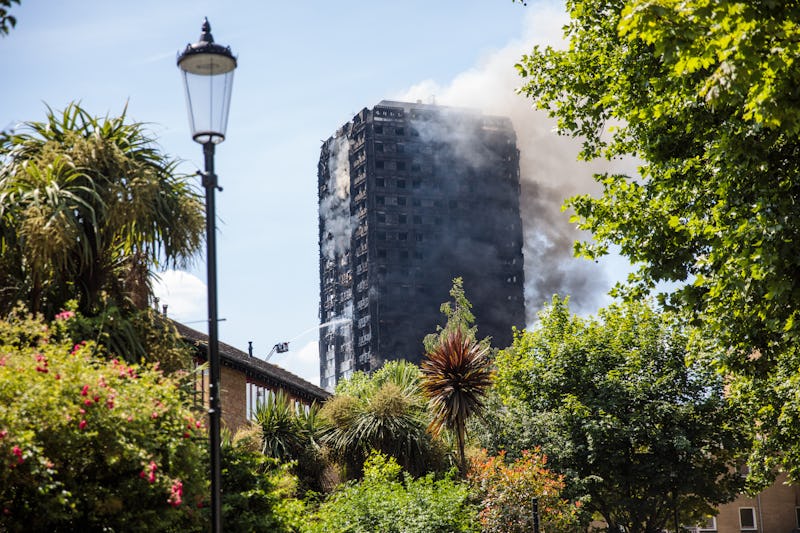 Jack Taylor/Getty Images News/Getty Images
In the early hours of Wednesday, a fiery blaze tore through Grenfell Tower, a West London building made of 24 stories, 120 flats and holding possibly 600 people at the time. At this time of writing, six people are confirmed dead, with more expected to be found, and saddened onlookers all over the world are wondering how to help the victims of the London tower fire.
The cause of the fire is not yet known, but residents said that the fire alarms did not go off and they were told to stay in their flats and put a wet towel by the door. Reportedly, concerns of the building's safety and stability were brought into question years ago but fell on deaf ears, having us wonder further if this could have been prevented.
According to reports, 20 people are in critical care and 74 were taken to the hospital, although many residents are still missing. Nine hours after the fire started, survivors were still being pulled from the flames; and the search will likely continue for days. No one has been identified thus far.
Residents are being offered shelter in stores, places of worship, and other people's homes, but much help is still needed — here's what you can do to get involved. (Spokespeople for these crowdfunding sites have confirmed that all of these campaigns have been verified genuine.)
1. Donate To The Grenfell Tower Fire Fund
This donation fund — which surpassed its goal in seven hours — was set up by Eartha Pond, a local council member for neighboring Queens Park. On the page's description, she writes:
...it is imperative that we support our neighbours in a time of need. It is unquestionable within the community of Queens Park every resident will know someone impacted physically or psychologically.
2. Help The Families Of Grenfell Tower
This crowdfunding campaign still has a ways to go in reaching its goal — donate now! It was started by local school teacher Haley Yearwood.
In this tight-night community, many families have lost everything they own, whilst others have lost their lives. Others no doubt will have lost family members, friends and colleagues.
3. Shop On Amazon To Help Those In Need
A wish list was created on Amazon to gather emergency supplies and send them to the local Rugby Portobello Trust, which is where many victims are currently staying. On the list, you'll see essentials such as baby bottles, underwear, socks, and toiletries.
4. Donate To The West London Tower Fire Victims
Shameela Islam-Zulfiqar created this page on behalf of the local Muslim community.
"This is an emergency fund to help raise money to alleviate the needs of the families affected," Islam-Zulfiqar writes, later adding:
The money raised is aiming to purchase emergency items such as clothes/ Blankets/ Food/ Water as necessary through the organisations already on the ground looking after families. Many Muslim families also lived in the tower block. It is a duty for us as the Muslim community to be at the forefront of helping ALL families affected in their hour of need especially in these last few precious days of Ramadan. Please donate generously.
5. Give To The Grenfell Block Latimer Fire Appeal
The Muslim community is stepping forward once again with this donation fund, set up by the Annoor Masjid and the Annoor Cultural & Community Centre. "Let's be the best of neighbours and help them recover from this terrible tragedy. Dig deep and give whatever you can," the page states. Donations will go to emergency food, clothing, and accommodations.
6. Donate To The Evening Standard Dispossessed Fund
The Evening Standard Dispossessed Fund was established in 2010 to help charities address poverty, inequality, and exclusion. Now, they're asking for donations for the Grenfell victims. Funds will be run by the London Community Foundation.
7. Work With Get West London
Get West London, a local news outlet, is asking for donations, big or small.
"Although we'll never be able to replace their loved ones, memories and homes, we can help them rebuild. We can show them that there's a whole country of people willing to support them as best as we can," a spokesperson said on their JustGiving page.
8. Donate To The Architects' Journal
The AJ's annual celebration around the achievements of the 100 largest architecture firms in the United Kingdom has a dual purpose this year: to support the victims of the Grenfell Tower.