How To Host Your Own Sister March If You Can't Attend This Weekend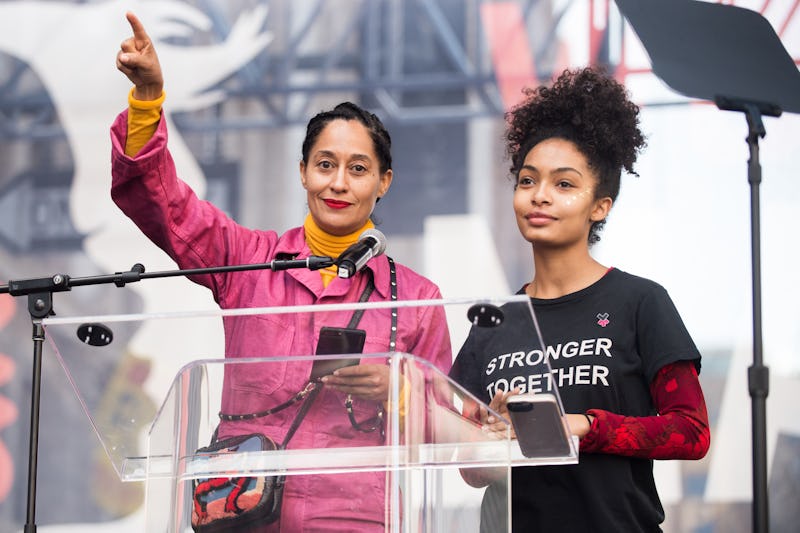 Emma McIntyre/Getty Images Entertainment/Getty Images
The Women's March is returning to enliven city streets across the states at events on both Jan. 20 and Jan. 21, 2018. We'll digest more empowering and action-oriented agendas through posters floating above and speeches ringing out. If you're far from one of the many metropolitans hosting events, you can still be included in the action by knowing how to host your own sister march. Through simple steps you can learn how to organize your own branch of the march and parade the power of the polls through your town.
To commemorate the anniversary of the first, historical Women's March that took place on Jan. 21, 2017, anniversary events will take place on both Jan. 20 and 21, 2018. The theme of this year? Power to the polls. Ahead of the midterm elections that will take place in — star your calendar — November of 2018, the theme's mission is to address voter suppression and register more voters to aid in the election of more progressive politicians to office. It's important to tune into the conversation, educate yourself and acquire the knowledge to speak eloquently on the subject to make a ~real~ difference. It's an important and exciting time to get in on the action.
The official kick off event will take place in Las Vegas, Nevada on Jan. 21, 2018. But events in other cities will also take place throughout the weekend. The Women's March in New York City will begin at 11:30 AM in Central Park on Jan. 20. Anniversary events are dotting the map like the sweet freckles that surface after a day in the sun. Worldwide events range from across the states, Canada, Mexico, Bermuda, South America, Europe, Asia, Africa, Australia and New Zealand. I mean a full circle around the globe. And if you're interested in tuning into what other events are like to draw inspiration you can check in with hashtags like #WomensMarchGlobal.
But, of course, the map has some considerable blank spaces. If you're inspired to take action and represent the themes of the Women's March such as "dismantling systems of oppression through nonviolent resistance and building inclusive structures guided by self-determination, dignity and respect," as stated on the official Women's March website, here's what you need to know.
First thing's first. Hop onto the powertothepolls.com. Drag your cursor to the "Anniversary Events" tab and click on "Event Organizing Toolkit".
Once the page has opened, you'll be taken to a page that provides the tools that you need in order to get your sister march off the ground in your town. You'll have to go to actionnetwork.org to register your event so that everything is ~official~. Click "Host an Event for this Event Campaign." When you enter a zip code and find no anniversary events in your surrounding area you will be directed to a "Host Guidelines." From there you will be directed to fill out information for the event which includes the title, location and time, amongst other suggested information like your contact information.
Fill out the purpose of the event and you'll be asked if the event is private. The toolkit suggests that the events aren't necessarily private. If it is set to private it won't show up on ZIP code searches which would be a huge bummer for other activists in your area who are looking to gather. Once you work through the next steps according to the toolkit, you'll publish your event and send the emails to your friends and plaster posters around your town encouraging friends and neighbors to take action. In the toolkit you'll find useful information to study up on as a host like recommended reading and unity principles of the Women's March.
Go make waves, my friendlies! See you out there.