How To Host A Women's March Huddle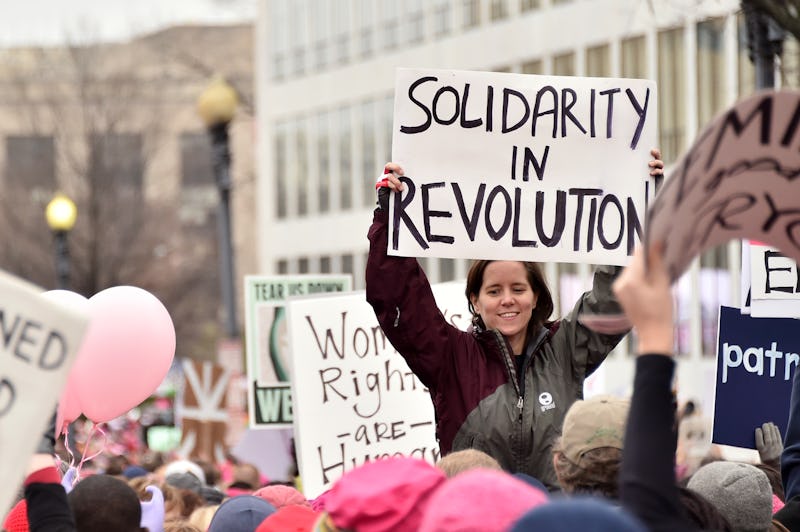 Mike Coppola/Getty Images Entertainment/Getty Images
On Jan. 21, the Women's March mobilized millions of women across the world. Given its extremely young age — put together in the immediate aftermath of President Trump's Nov. 8 win, organizers had just over two months to prepare — that kind of turnout is remarkable. But now, the question is: What's next? And to answer it, the Women's March is encouraging its participants to organize their own "huddles," offering a step-by-step online guide explaining how to get a group of like-minded women and allies together and focus on proactive next steps. The goal is to harness the energy of the millions of pink-hatted marchers who gathered on Jan. 21, and galvanize it to effect lasting change at the local and national levels.
On the Women's March website, anyone interested can use their map tool to search and find an already-existing huddle nearby, simply by entering your zip code. I gave it a try for my own area, and found two huddles within close enough proximity. But what if there isn't one already set up near you? That might be your cue to volunteer to host your own group. But don't worry, because it's as easy as type, click, and show up.
The planning is simple: Almost all the materials you need are on the website. Hosts are encouraged to get at least 10 to 15 participants, and then pick a location. For those new to running meetings, the Women's March has a schedule, complete with time limits, on how to keep the first huddle to 90 minutes, and still accomplish some serious goal setting.
Huddles have three goals: to form a community of like-minded activists; to envision and define what "winning" looks like over the next four years; and to come up with concrete action plans for achieving that vision.
In that vein, the host guide offers several possibilities for resistance moves already ongoing. First among them is protesting Trump's executive orders, particularly the recent ban on travelers coming from seven Middle Eastern countries, as well as Trump's planned wall along the United States border with Mexico. Huddlers are also encouraged to attend Town Hall meetings with their local representatives, participate in the Tax Day March on April 15 to protest Trump's still un-released taxes, starting a voter registration drive, and several other ideas.
Since huddles are supposed to be scheduled between Feb. 1 to 11, there's about one week left to register. For all those who participated in or supported the Women's March, this is a crucial next step in turning that energy into lasting action.