6 Ways To Bring Divorced Parents Into Your Wedding, According To Those Who've Done It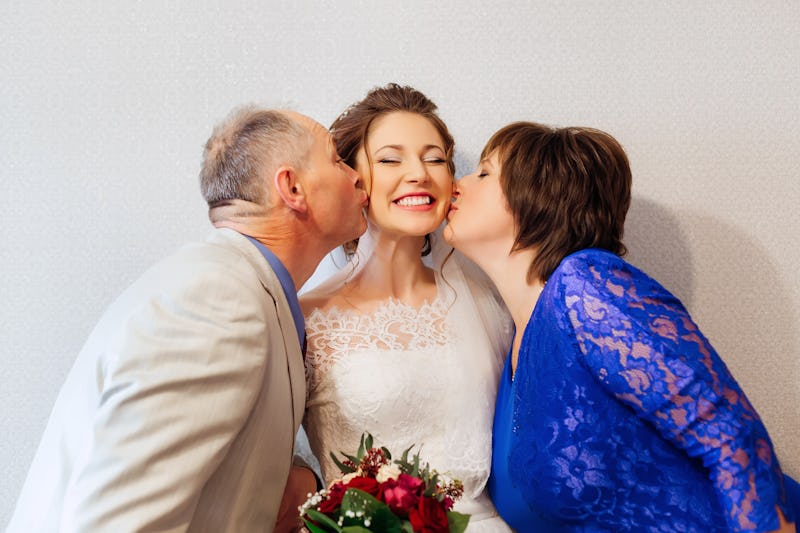 Shutterstock
The last thing you want to be thinking about on your wedding day is your parents divorce. But if they are both still in your life and still on the invite list, navigating their relationship and your desire to have them involved in the big day might be tricky. Incorporating divorced parents into the wedding doesn't have to be a nightmare, however. You can find a way to make it work for everyone.
"In an ideal world, parents would be able to put their personal feelings aside for your wedding day. But sometimes, due to personalities and circumstances, that just might not be the case," Lauren Schaefer founder of YWbL, a month-of wedding coordination company serving New York, Nashville and Chicago, tells Bustle.
"For parents that are divorced, I always recommend getting each parent involved equally," Schaefer says. "If one parent processes down the aisle, the other should also process down the aisle. If one parent is giving a toast, the other parent should be invited to give a toast as well. If you've included one parent's extended family in the photo combinations, make sure to also include the others."
Ultimately, Schaefer says, the quickest way to shake already uneasy ground is if things are not "fair" or "even" between the two parents. So try to do that as best as you can, if that's what feels fair to you.
Below, check out how women have planned their weddings, and the weddings of their loved ones, that involved divorced parents.