Thanksgiving Can Be Super Stressful For Your Pets — Here's How To Keep Them Safe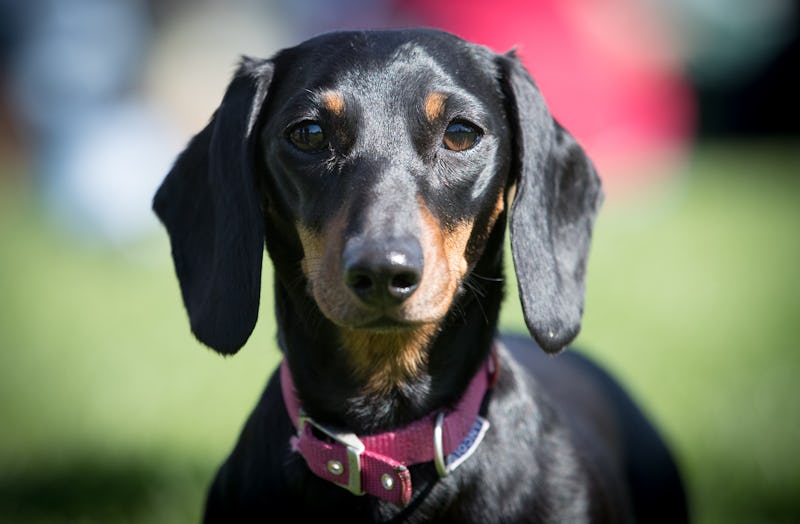 Matt Cardy/Getty Images News/Getty Images
With Thanksgiving literally right around the corner, you might be thinking about traveling, family plans, and what dish to bring to dinner. Keeping pets safe during the Thanksgiving holiday, however, is also so important to consider. Holiday foods and drinks can pose potential dangers for your fur baby, and your pets might need help with holiday anxiety, too. While they might not need to figure out how to roast the perfect turkey, your little fuzzy one might be dealing with lots of new people in your home, a boarding situation, travel, or just a general disruption to their routine.
Holidays can be overwhelming for everyone including your pets. Disruption to a pet's schedule, less attention and unfamiliar noises, smells and people can all lead to behavior issues," veterinarian Dr. Evan Antin tells Bustle.
Keeping up with your pet's regular routine, including exercise, is also important for managing any potential holiday-induced anxiety they might be feeling. Giving lots of affection also helps, Animal Medical Center's Dr. Carly Fox tells Bustle via email. "Make sure to give your cat or dog attention as you're prepping or hosting," she says. "Physical contact often helps calm them and makes them feel included. Just like people, dogs and cats often respond positively to touch which helps relieve their stress and anxiety."
So, when planning for the holidays this year, make sure that your furry family members are covered. Here are seven ways to keep your fur baby healthy and happy this Thanksgiving holiday.