5 Expert Tips For Healthy Summer Nails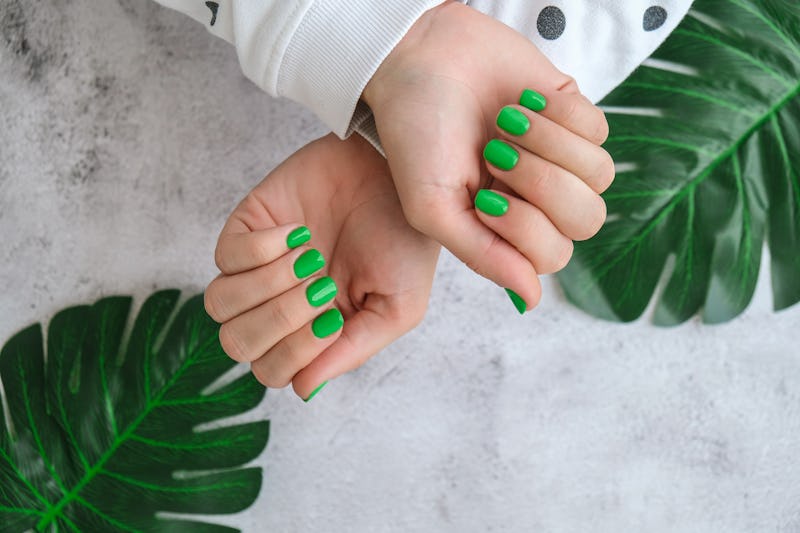 Anastasiia Yanishevska / EyeEm/EyeEm/Getty Images
Summer weather tends to mean more time in the sun, salt, and chlorine. And while you may have an idea of the harm those things can do to your skin and hair, how do you keep your nails healthy in the summer? To find out how more pool and beach days could damage your nails and the best ways to protect and treat them, I emailed with Carolann Shapiro, owner of non-toxic and eco-friendly hand and foot spa, Can Can Parleur, and Dr. Elizabeth Tanzi, founder and Director of Capital Laser & Skin Care and Associate Clinical Professor for the Department of Dermatology at the George Washington University Medical Center.
According to Shapiro, "Submerging your nails into water in general or being in a chlorinated pool can strip away the enamel and create dry and brittle nails." Dr. Tanzi explains that even though brief exposure to water can be hydrating, prolonged exposure, especially in water that has salt or chlorine, actually dries out nails and cuticles. What's more, says Dr. Tanzi, is that is that there tends to be an increase in nail infections in the summer. And yes, this is partly due to clocking more time in the water.
She explains that if excessive water exposure dries out cuticles enough and causes them to crack, "That can allow harmful bacteria or yeast to get under the nail to cause an infection." Yikes. Not to mention she says that having more pedicures can also damage cuticles and cause the same problem. So to minimize nail damage and prevent infections during the more vulnerable, summer months, try these five tips that will help maintain nail health:
1. Moisturize
Mrs. Meyer's Clean Day Hand Lotion, $5, Mrs. Meyer's
The key thing that both experts recommend doing is making sure your hands, feet, and nails stay well moisturized. "Make sure to treat your nails post-water to a natural cuticle oil [and] hand lotion," says Shapiro. Dr. Tanzi adds, "At night, a thicker moisturizer on hands with a rich cuticle cream will keep hands and nails looking great."
To keep your feet and cuticles around your toes from drying and cracking, Dr. Tanzi recommends trying a cream with salicylic acid or urea which will help soften dry skin when used regularly, using a pumice stone or foot file to help soften and smooth your feet, and then topping everything off with a shea-butter moisturizer so your feet stay soft and hydrated.
2. Switch Out Your Hand Soap
Seventh Generation Free & Clean Hand Wash, $3, Target
In addition to swimming pools, lakes, and oceans, washing your hands frequently can also dry out your cuticles. To keep your nails and cuticles in a healthier state, Dr. Tanzi recommends switching out harsh, antibacterial soaps with gentle cleansers that will sanitize just as well.
3. Find An Experienced Nail Tech
Before you get your nails professionally done, Dr. Tanzi says "seek out the most experienced technician possible to minimize the trauma." This way, your nails will be less prone to damage and infection.
4. Take Breaks Between Manicures
Creamy Nail Polish, $12, 100% Pure
The type of manicure you have can also impact your nail health during the summer. If you have gel or acrylic nails, Dr. Tanzi suggests taking occasional breaks between manicures in order to minimize thinning the underlying nail plate. If you like to use regular polish, Shapiro recommends sticking to non-toxic formulas that are less harsh on nails.
5. Try A Deep-Conditioning Treatment
Nails Inc. Superfood Nail and Cuticle Repair Oil, $15, Sephora
To really lock in moisture and reset your nails, Shapiro suggests applying a generous coat of natural lotion along with a few drops your favorite facial or body oil to your cuticles and hands, and then wrapping your hands in plastic wrap. Then simply "place your hands under a heating pad and relax for 10 to 15 minutes." You can repeat this process with your feet as well to give your cuticles some serious hydration to prep or recover from a day at the beach or pool.
Because when your nails are healthy, you can dive into summer (and that sparkling pool) worry-free.