6 Ways To Keep Your Pet Cool Indoors, According To Experts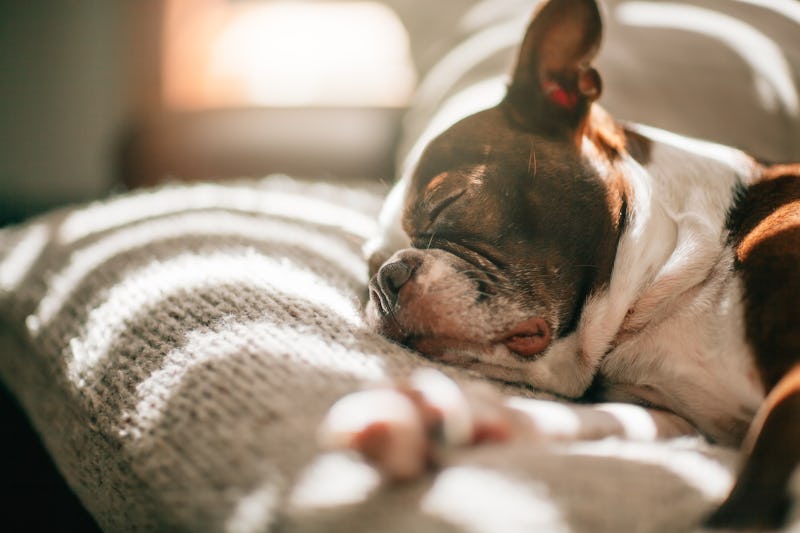 Rebecca Nelson/Getty
Spring is springing and it looks like summer is fast bringing up the rear. As we say in Ireland, the sun is splitting the stones. And yet, frustratingly, although you might want to grab your pooch's lead and shout "let's split!" — things aren't quite so simple at the moment, what with the COVID-19 lockdown and all. Considering that blue skies and soaring temperatures are expected in the coming weeks, here's how to keep your pet cool while they're cooped up indoors.
According to the Met Office, the UK's forecast this weekend (April 25-26) is set to be "warm and sunny for most". This news would usually illicit lots of excitement and be the catalyst for endless social engagements, BBQs, and of course crispy outdoor pints. As the above aren't currently an option for most people (AKA those with zero outdoor space), there's a lot of frustrated people out there. But what about the fur-strated? Yes your pets are not only missing outdoor time but they're also at risk of overheating while indoors.
I spoke to pet experts Zoe Costigan, in-house vet at ITCHpet and Camille Ashforth, the senior brand manager at Webbox, as well as Rebecca Spragg from Canagan. Below, they offer their advice on how to keep your pets calm, cool, and collected.