Here's How To Keep Your Skin Super Glowy This Winter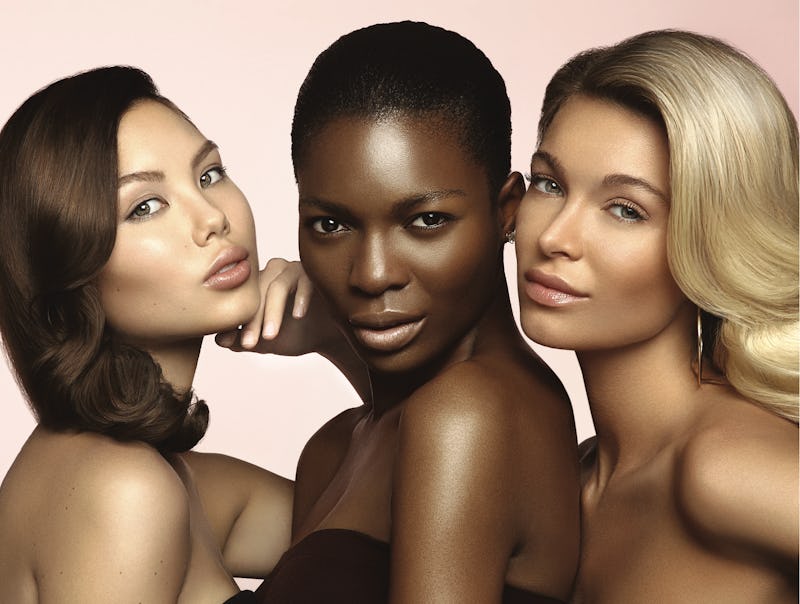 Courtesy of Veil Cosmetics
Winter is about to descend and ultimately wreak havoc on your skin. Even if you use a heavy duty moisturizer with shimmer or get regular spray tans, you inevitably end up with dull or pasty winter skin. But you don't have to settle for a sallow complexion. Beauty expert Sebastien Tardif exclusively provided his tips for keeping skin super glowy during winter's doldrums to Bustle, here's what you need to know.
Tardif has worked with everyone from Naomi Campbell to Jane Fonda to Olivia Palermo and is the CEO of Veil Cosmetics, which offers multi-tasking, treatment cosmetics that are highly functional without masking skin. Tardif shared winter skin care golden rules, breaking down how to implement them into your routine over the next several months.
Getting (and keeping) healthy, glowing, and touchable skin in winter starts with proper cleansing rituals, so skin is healthy. It continues with using the right makeup and steering clear of certain products and formulations, and is maintained through finishing touches that make all the difference.
Yes, it's a few steps and requires commitment but that dewy, soft flush will be well worth the investment of time and energy. Say goodbye to chalky, flaky skin in favor of a gorgeous glow because "I want dry skin," said no one E-V-E-R.
1. Skip Hot Water
Despite the instinct to seek heat when it's bitter cold out, a too-hot shower or dip in a steaming tub can do major damage to your skin in winter. "Never wash your skin with hot water as it completely strips skin from all its moisture, and natural oil and hydration," Tardif says. Instead, opt lukewarm temps.
2. Pat Off Excess Water Gently
Post-shower, use a soft towel to gently pat off excess water, "as opposed to harshly rubbing your skin, as it causes extreme discomfort and irritation in the long run," Tardif warns.
3. Follow With Face Oil
When it comes to your face, start with a rich cleansing oil so you "get a head-start with moisture," says Tardif. "Apply face oil, wetting fingers to obtain an emulsion as you massage for 60 seconds. Then, rinse with lukewarm water." It will leave your complexion armed with an emollient cushion.
4. Use A Water-Based Hydrating Primer
A water-based primer or serum provides "a nice slip for your makeup to glide on, but also captures, adds and retains hydration from your cleansing oil without that drying, tight feeling," says Tardif. It's all about layering protective and nourishing products before applying your cosmetics.
5. Avoid Powder Makeup In Favor Of Creams
"Powders exacerbate the look of dry, patchy skin," Tardif notes. Instead, go with cream blushes, bronzers, or highlighters, since the formula will melt into skin and look more natural.
6. Find The Right Concealer & Foundation Formula
You also want to employ a self-setting concealer and foundation that does not require an assist from a setting powder.
"If your concealer or foundations feels too oily or looks too shiny after you've applied it, it was probably not right for your skin type to begin with," Tardif says. "Powder only adds emphasis to fine lines and peach fuzz you wouldn't see."
7. Repurpose A Balm
Warm up a lightweight balm by rubbing it between fingers and then dab it on your cheeks for a soft focus sheen. "Avoid dabbing onto your nose or chin since you want to avoid going from glowy to oily," Tardif says.
8. Face Mists Are Your Friend
Wrap things up with a setting mist. But make sure it's a hydrating formula, rather than mattifying. Tardif notes a spritz or two will "create a soft glow that envelops and tames surface makeup into a dewy finish."
All of these steps should leave you with that coveted "lit from within" winter radiance.